VIA – PRESS OF ATLANTIC CITY
Maryland surfer wins Belmar Pro title
Posted: Monday, September 19, 2011 12:01 am | Updated: 12:54 am, Mon Sep 19, 2011.
By JON COEN, For The Press |
BELMAR – The Fosters Belmar Pro saw a relative newcomer walk away with the trophy on Sunday after four days of waves in New Jersey's biggest surf competition.
Vince Boulanger, 22, of Ocean City, Md., posted a massive 9.17 for a heavy backside barrel in the final to beat much higher profile East Coast pro surfers.
The day was not without its local highlights however, as New Jersey's surfing legend added another chapter to his epic story. Dean Randazzo, a four-time cancer survivor, from Somers Point, pushed all the way to the semifinals.
"Competing in Belmar is like a home away from home, said Randazzo, "I have so much family up here and such a great support system."
Indeed Randazzo had support. His mother, Mary Lou, watched every heat intensely from the beach and other family members pulled for him.
Randazzo was seeded in the Round of 32, where he took first place. He used his trademark brand of aggressive power surfing to oust Ocean City pro Matt Keenan, 36, who made his own impressive return to competitive surfing after a year off, and Christian Saenz, a highly ranked junior pro from California, in the quarterfinal.
Randazzo's run finally ended in the semis, where his waves failed to offer much scoring potential, and he lost to last year's champ, Michael Dunphy, 21, and eventual champ, Boulanger. The fact that Randazzo, the only New Jersey surfer to have ever competed on the ASP World Tour, was the last local surfer standing at age 42, speaks volumes about his determination and tenacity.
After benefiting from waves from Hurricane Maria on Thursday and Friday, a local windswell filled in for Saturday and Sunday for the event. Saturday's waves were not particularly exciting, but the northeast wind on Saturday night and through the day Sunday created 4- to 5-foot windswell with some overhead peaks.
And while the onshore winds were not perfect, they created very consistent and powerful swell that competitors were able to perform big moves on.
"It was good," said Randazzo, "better than small waves, even if the wind was on it."
The other local to see a final Sunday was Jamie DeWitt. DeWitt, 28, is a native of Beach Haven, who now lives in Kill Devil Hills, N.C., on the Outer Banks, and is a two-time defending champ of the Hannah Women's Pro.
In her quarterfinal heat, DeWitt's frontside turn left the other surfers in combination situation, meaning that their total heat scores didn't equal DeWitt's lower scoring wave. She powered through to the final where she took fourth.
Winning the women's final was Jessica Kwiecinski, 16, of nearby Bradley Beach. Kwieciniski shocked everyone when she nailed a long right for a 7.5.
"I'm really happy for her. The conditions were super-difficult, hard to find two scoring waves, but she did, and I'm glad a local won," admitted DeWitt.
Boulanger, on the other hand, had no problem finding scoring waves in the men's final as he downed Dunphy, of Virginia Beach, Evan Thompson and Asher Nolan, both of Jacksonville, Fla. Boulanger started with a 7.1 for a textbook frontside gouge on an overhead section and really opened up his lead when he caught a right, grabbed his rail, came through a backside barrel and executed a hefty backside re-entry for a 9.17.
"I've never even made it past the quarters in a professional contest," said Boulanger. I don't even know how to describe the way I feel. I'm just really happy."
For the full article go here:
http://www.pressofatlanticcity.com/sports/maryland-surfer-wins-belmar-pro-title/article_c6d1e1c3-3d0d-5944-a238-2d3c97cccc49.html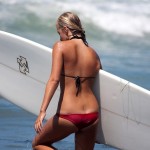 Become A Sponsor!
If you have a product or service that is a good fit for our surf community, we have opportunities for you to sponsor this blog!
Download our media kit now!