VIA – VC STAR
Ventura surfer does double duty to win event

By Gareth Dodd
Posted September 18, 2011 at 9 p.m.
A local surfer used a maneuver never seen at the California Street Longboard Classic to win his division and a bunch of oddball surfers in strange costumes helped raise money for a cancer victim as the venerable surfing contest closed out Sunday at the Ventura Beach Promenade.
Born in Ventura and surfing Silver Strand since the age of 12, John Paul Taylor said surfing with two boards at the same time is nothing new for him. The 25-year-old Taylor had spectators and contest judges perplexed when he paddled out for the 19-plus shortboard finals on a longboard with a shortboard tucked under his chest.
He wowed the crowd and judges by catching waves on the longboard and then placing the shortboard into the water and jumping onto the shortboard to complete the ride.
"I started doing it 10 years ago after I was inspired by a movie I saw of surfer Chris Ward," Taylor said. "I thought I'd get DQ'd (disqualified) but the contest is just for fun so I went for it.
"I'm more of a shortboarder, but I use the longboard when the surf is small to get into the wave and then switch to the shortboard."
Judge Jim Bailey said he's seen the maneuver performed before, but never in a legitimate contest.
"I've had buddies do it free surfing and seen it in videos," the Ojai resident said. "To do it that way is probably a harder takeoff than normal. Yeah, his rides will count.
He added: "It's a choice you make after you see what a surfer is doing. Let's just say we're progressive judges. But we're only scoring what he does on the shortboard."
Taylor's surprising performance was followed by about 30 surfers decked out in costumes that ranged from the legendary big foot to a great white shark to a pigtailed cheerleader. Some stink buggers wore oversize football helmets while participating in the 4th Annual Stink Bug Classic surfing contest.
Stink Bug spokesman Joey Camacho said the purpose of the event is to raise fun-filled mayhem on the water while raising money to assist cancer victims and their families. He said the first three years the group – mostly local surfers that hang out at the middle parking lot of California Street – raised money for St. Jude's Children's Research Hospital.
Camacho said this year donations in the amount of between $1,500 and $2,000 will go to the family of a Camarillo cancer victim who died recently.
"Every dime goes directly to the family," he said. "Some of us put together $400 to $500 to design and print T-shirts that we sell here. We ask for a $20 donation to enter the Stink Bug Classic and each entrant gets a T-shirt.
"It's a great thing for a great cause – to fight cancer – and everyone has a good time."
In other Longboard results, the women's winners were Eveline Van (19 and under); Lindsey Van Blargen (20-39); and Jill Lemiux (40 plus).
For the full story and all the results go here:
http://www.vcstar.com/news/2011/sep/18/ventura-surfer-does-double-duty-to-win-event/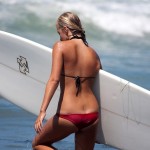 Become A Sponsor!
If you have a product or service that is a good fit for our surf community, we have opportunities for you to sponsor this blog!
Download our media kit now!