VIA – PACIFICA PATCH


Mavericks Movie Crew Comes to Pacifica Tuesday
Crews will be at Linda Mar Beach on Tuesday and Oceana High School on Wednesday.
By Camden Swita and Brad Kava
6:39pm
Cast and crew of the forthcoming movie about Jay Moriarity, well known on the Coastside and worldwide for besting the Mavericks surf break in Half Moon Bay as a teenager, will arrive in Pacifica tomorrow.
Starting at 7a.m. Tuesday, part of both parking lots at Pacifica State (Linda Mar) Beach will be off-limits to the public as crews shoot scenes for the film, Pacifica City Manager Stephen Rhodes said.
Crews will be there all day, he said, and on Wednesday, film crews and cast will be at Oceana High School filming additional scenes.
Rhodes said the filming schedule is flexible and the length of time cast and crew will be in town depends on how much they accomplish Tuesday and Wednesday. They may be here Thursday, as well.
The film, tentatively being called "Of Men and Mavericks", stars Gerard Butler as Moriarity's mentor Rick "Frosty" Hesson and Jonny Weston as Moriarity. Curtis Hanson is ("LA Confidential," "8 Mile") on board to direct.
Moriarity, born in Georgia and raised in Santa Cruz, was an iconic surfer who at 16 started surfing at Mavericks and helped bring the big waves to national prominence. One of his early wipeouts was caught on film and made the cover of Surfer magazine. Check out a video of Moriarity on the wave in the gallery.
When he was 12 he met Hesson, a veteran surfer, lifeguard and collegiate swimmer. Moriarity talked him into taking him under his wing and training him for the biggest waves. The movie is said to be a tale of struggle, redemption, and a purity of soul that affected all who knew Moriarity.
Moriarity died a day before his 23rd birthday in a diving accident in the Maldives.
In Santa Cruz, where much of the movie takes place, restaurants and hotels saw a spike in business when crews came to town, reported the Santa Cruz Sentinel…
For the full story go here:
http://pacifica.patch.com/articles/mavericks-movie-crews-come-to-pacifica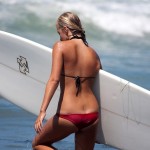 Become A Sponsor!
If you have a product or service that is a good fit for our surf community, we have opportunities for you to sponsor this blog!
Download our media kit now!