VIA – MERCURY NEWS
Photo: Actors Leven Rambin and Jonny Weston, who portray Kim and Jay Moriarity in the movie 'Of Men and Mavericks' head back to their marks for a scene being filmed at the Santa Cruz Beach Boardwalk on Monday where they bicycle at the amusement park. Monday was the last day of local filming on the project, which moves production up to Half Moon Bay and the Mavericks surf break Tuesday. (Shmuel Thaler/Sentinel)
The Santa Cruz shoot for the film 'Of Men and Mavericks' finishes with a scene at – where else? – the Beach Boardwalk
By WALLACE BAINE – Santa Cruz Sentinel
Posted: 10/24/2011 07:26:59 PM PDT
Updated: 10/24/2011 07:34:10 PM PDT
SANTA CRUZ – The year 2012 will contain two notable events in the ongoing relationship between Santa Cruz and the movies.
First, next summer, the campy horror midnight movie "The Lost Boys" – which according to broad local consensus reigns as the quintessential Santa Cruz movie – will marks its 25th anniversary. Second is the moment, exactly a year from now, when "The Lost Boys" may very well lose that status forever.
Monday, the cast and crew of the film "Of Men and Mavericks" spent their final day in Santa Cruz after more than two weeks of location shooting with a scene at the Santa Cruz Beach Boardwalk. On Oct. 26, 2012 – one year from Wednesday – the film is scheduled to be released in theaters nationwide.
We don't know yet whether "Mavericks" will be a turkey, an Oscar winner or, more likely, something in between. But there is a wide expectation that the biopic of beloved Santa Cruz surfer Jay Moriarity will bump "Lost Boys" from its perch as Santa Cruz's favorite movie about itself.
Tellingly, both films prominently feature the Boardwalk.
"There have been a number of feature films shot (at the Boardwalk)," said the Boardwalk's marketing and sales director Marq Lipton, who has been with the company for 30 years. "The biggest impact would have come from 'The Lost Boys.'"
Monday's shoot featured a young Jay and his girlfriend/later wife Kim (played by actors Jonny Weston and Leven Rambin) having fun at the Boardwalk, as well as a brief scene shot at Main Beach. The producers maintained a closed set and the film's star, Gerard Butler, was not on the set Monday, though about 35 locals were used as extras in the scene.
The Boardwalk has a long history of working with production crews from film, television and advertising. In fact, the 1980s represent a kind of golden era for films shot on the Boardwalk featuring "The Lost Boys," Clint Eastwood's "Sudden Impact," "The Sting II" and – who could forget? – "Killer Klowns From Outer Space." Lipton said that the Boardwalk even made a quick cameo in the intro to the comedy classic "Naked Gun," in which the police car's flashing light was filmed riding on the Giant Dipper.
In the 1990s, many film producers began looking to Canada and other foreign locales in an effort to cut costs, and the Boardwalk, like many U.S. locations, was used less frequently. The last major Hollywood film shot on the Boardwalk was the Michelle Pfeiffer drama "Dangerous Minds" in 1995.
"Of Men and Mavericks" is, however, of a different category than most other films shot locally in that Santa Cruz is not an incidental location, but an integral part of the story. The Boardwalk was eager to be part of it.
"This movie is about Santa Cruz," said Lipton. "We would have been sorely disappointed if a movie about Santa Cruz didn't have a Boardwalk scene."
Historically, the Boardwalk has asked to see scripts from producers who wish to shoot there.
"We always have questions about what the project is, and how Santa Cruz is going to be portrayed," said Lipton.
But, "Mavericks" comes by way of Walden Media, a company that has produced such well-received family fare as "The Bridge to Terabithia" and the "Narnia" movies. Walden has, in fact, been a primary player in the effort to bring high-quality teen and pre-teen films to the marketplace – other credits include "Holes," "Because of Winn Dixie" and "Charlotte's Web." Walden was also one of the producers of last year's documentary on improving education standards "Waiting for Superman."
Once the Boardwalk learned that Walden was producing the story of Jay Moriarity, the beloved young surf pro who died a day short of 23 in 2001, "we just wanted to be associated with it," said Lipton.
"They've been extremely professional," said Kris Reyes, the Boardwalk's community relations director. "This is as smooth a film shoot as I've ever been part of."
The Boardwalk does have certain guidelines for those who want to shoot there, mainly that they avoid the busy summer tourist season.
"Our primary business is running an amusement park, and if we have someone making the trip from Oregon or Sacramento or somewhere in the summer, we need to make sure that we aren't closed for some film shoot at that time."
"Of Men and Mavericks" has already brought a boon in business to many local hotels and restaurants. The opening of the film next year – there is no decision on whether there will be a formal premiere in Santa Cruz – is likely to put Santa Cruz in the national spotlight and could provide a boost to the surfing community. On a more iconic level, the film, if successful, could greatly enhance Santa Cruz's public image.
For the full article and all the photos go here:
http://www.mercurynews.com/breaking-news/ci_19185079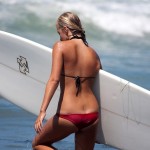 Become A Sponsor!
If you have a product or service that is a good fit for our surf community, we have opportunities for you to sponsor this blog!
Download our media kit now!