VIA – EXAMINER LOS ANGELES
Fact based surfing film 'Mavericks' casting teen female for lead role
Alan Baltes, LA Acting Auditions Examiner
August 14, 2011 – Like this? Subscribe to get instant updates.
The feature film "Mavericks", which tells the true story of legendary Santa Cruz big-wave surfer Jay Moriarity, is casting lead and supporting roles in Los Angeles, CA. Day players and extras will be cast starting in mid-September and continue throughout filming, which takes place in Santa Cruz, CA starting in October, 2011. Numerous high school age roles will be cast as well as early 90's surfer types.
The film stars 22-year-old actor Jonny Weston, who is an accomplished surfer, as Jay Moriarity. Weston's star is rising fast, as he has done five films and appeared in three television shows in this past year, his first as a professional actor. Gerard Butler is executive producing "Mavericks" and will also play Rick "Frosty" Hesson, the mentor who trained Moriarity for over a year and developed a close relationship with the surfer in the process.
For the full story go here:
http://www.examiner.com/acting-auditions-in-los-angeles/fact-based-surfing-film-mavericks-casting-teen-female-for-lead-role
For similar stories go here:
http://surftweeters.com/actor-chosen-for-jay-moriarty-role-in-new-film-mavericks-with-gerard-butler/
http://surftweeters.com/more-on-jay-moriarty-role-and-new-mavericks-movie/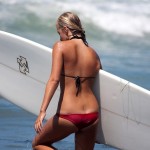 Become A Sponsor!
If you have a product or service that is a good fit for our surf community, we have opportunities for you to sponsor this blog!
Download our media kit now!