Get your self up and wipe yourself off, it's called bailing pansy…they don't make country singers like they used to!
VIA – RTT NEWS


Luke Bryan Injured In Skateboarding Accident
8/14/2011 7:34 PM ET
(RTTNews) – Luke Bryan suffered some scratches and a gash to the forehead in a skateboarding accident in New York on Wednesday.
The country singer had just purchased a skateboard earlier in the day after appearing on NBC's Today show when he rode the skateboard and fell. He was then taken to an area hospital, where he received stitches and tweeted his injury to his fans, noting: "Does anyone wanna see my latest screw up?" He then attached a picture of his face, stating: "More stitches."
Bryan explained the incident in an interview with WSOC later, explaining that he used a two-wheel Rip-Stick skateboard: "We were just kind of walking it back to a cab, and there was one last hill. We got on the hill, and the next thing you know I'm rolling down the hill." He added: "What cut my face was my sunglasses. I literally rolled on a skateboard, and [didn't] have one scratch on my body."
For the full story go here:
http://www.rttnews.com/Content/EntertainmentNews.aspx?Section=2&Id=1691720&SM=1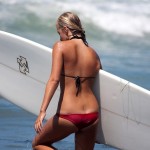 Become A Sponsor!
If you have a product or service that is a good fit for our surf community, we have opportunities for you to sponsor this blog!
Download our media kit now!