Another great waterman who will be missed by so many…
VIA – ABC AUSTRALIA

Hundreds of people attended a memorial paddle-out at Kirra for surfer Michael Peterson
Michael Peterson's ashes scattered while surrounded by hundreds of surfers at a memorial paddle-out
The ashes of Tweed-Coolangatta surfing legend Michael Peterson were returned to their spiritual home at the weekend.
Peterson, known as 'MP', died of a heart attack at the age of 59 last month.
He was farewelled at a public funeral at the Tweed Heads Crematorium on April 5.
Hundreds of surfers, including current world tour champions Kelly Slater and Mick Fanning, paid their final respects to MP at a paddle-out on Saturday held off Kirra Point.
Surfing journalist and author of MP: The Life of Michael Peterson Sean Doherty said Kirra was the ideal location for the memorial.
"His ashes were scattered and he was back where he belongs," said Mr Doherty.
"It was huge, basically Coolangatta just stopped for a couple of hours… it was probably the biggest paddle out I've ever seen."
Mr Doherty said MP, who won the prestigious Bells Beach contest three years in a row in the mid 70s, was revered not only for his surfing prowess but his rebellious attitude.
"He looms large in the Australian surfing psyche definitely, he's one of the few surfers anywhere in the world who actually had a cult following," he said.
"There was something about his aura that attracted people to him."
However, MP's professional surfing career was short-lived and he was eventually diagnosed with schizophrenia.
"He was a pretty fractured genius with his surfing, he always said all along he'd walk away from surfing rather than not be able to surf his best," said Mr Doherty…
for the full article go here:

http://www.abc.net.au/local/stories/2012/04/16/3478275.htm?site=illawarra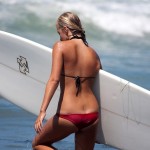 Become A Sponsor!
If you have a product or service that is a good fit for our surf community, we have opportunities for you to sponsor this blog!
Download our media kit now!