VIA – THE HERALD SUN
Sally's making waves after her big win at Bells Beach
Lucas Townsend
From: Sunday Herald Sun
April 15, 2012 12:00AM
Surfer Sally Fitzgibbons is aiming for the World Championships after her big win at Bells Beach. Herald Sun
BELLS Beach belle Sally Fitzgibbons has the world in her sights. After claiming her second Rip Curl Pro title last weekend, the surfing talent will be aiming for a world championship, having been runner-up twice.
She was yesterday eliminated from the ASP Women's World Championship Tour event in New Zealand.
"It hurts so bad to lose," Fitzgibbons says. "That desire to win most of the time is because you don't want to let yourself down."
The 22-year-old grew up on the NSW south coast and says her competitive fire has always been stoked by trying to keep up with her three brothers.
>
"They are the ones I was competing against in backyard cricket and soccer – all I wanted to do was surf as good as them," she says…
For the full article go here:
http://www.heraldsun.com.au/ipad/sallys-making-waves-after-her-big-win-at-bells-beach/story-fn6bfkm6-1226326642364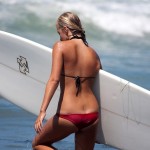 Become A Sponsor!
If you have a product or service that is a good fit for our surf community, we have opportunities for you to sponsor this blog!
Download our media kit now!