VIA – STUFF CO NZ


Near-drowned surfer given second chance
NICOLE MATHEWSON
Last updated 15:09 19/10/2011
A Christchurch surfer who almost drowned is recovering well after being given a second chance at life.
James Tuhikarama, 47, was pulled from the water at New Brighton beach during a surfing competition on September 18.
Six young lifeguards performed CPR on Tuhikarama for 45 minutes before the veteran North Wai Boardriders Club member was rushed to Christchurch Hospital.
He spent a week in the intensive care unit in an induced coma.
He regained consciousness on September 25, but still needed to use a ventilator to breathe and was put under sedation by hospital staff.
On October 6 he was discharged from hospital, and today told The Press the whole experience was "all a bit of a daze still".
"I can't remember the week before the accident. There's a guy around whose got a whole lot of photos from the day … they actually brought a tear to my eye, they made it real."
Tuhikarama had suffered a heart attack during the competition, but it was the water that nearly killed him.
He had no history of heart problems, but had "smoked like a train" for much of his life.
"So it was my own fault that it happened. I'm never going to smoke again."
His ordeal had also encouraged his two younger brothers to quit smoking.
"They were looking at me in the hospital bed, with a hose coming out … they've got the patches now."
Tuhikarama said he was not able to work, surf or drive until he was given the all-clear by doctors, as his heart was still "a bit erratic".
He hoped to be back in the water by Christmas, but said he would wait until he was well enough.
His 16-year-old daughter and 13-year-old son appeared to be coping well after their father's accident, he said.
"I don't know how they were copying during I hear I was in a pretty bad way.
""They're fine now. We haven't talked about it too much; we're focusing on the future."
He met the six teenage surf lifeguards who performed CPR on him on Monday, saying they were "amazing" people.
"That's the only thing that kept me alive…
For the full story go here:
http://www.stuff.co.nz/the-press/news/5815123/Near-drowned-surfer-given-second-chance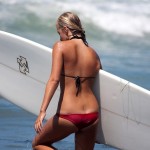 Become A Sponsor!
If you have a product or service that is a good fit for our surf community, we have opportunities for you to sponsor this blog!
Download our media kit now!