New Jersey Artist honors Pro Surfers in Mural Project
July 24th 2012 – Wildwood, New Jersey
Images of Pro Surfers Kelly Slater and Bethany Hamilton along with other inspirational figures like Martin Luther King Jr, John Lennon and Steve Jobs have been utilized in a new art project involving a collection of 7 recycled shipping containers on Morey's Adventure pier in Wildwood, NJ.
Morey's Piers has given their Adventure Pier a new look utilizing shipping containers, creating a distinctive and vivid edge to the pier and opened up new art opportunities.
The goal for this project, according to Jack Morey, Executive Vice President of Morey's Piers and Beachfront Waterparks is "to promote self belief and courage" to the young people who visit the pier."
Surf Artist and Designer David Macomber of Shark Sugar Creative was commissioned to give Adventure Pier's shipping containers a new, extreme look. His photography and designs have been featured in various Surfing magazines while his passion for surfing and the Jersey Shore permeates his artistic style. These elements made him an ideal candidate for Morey's Piers Adventure Pier Container Art Project.
The massive undertaking took 8 days and over a hundred man hours to complete and the results are incredible. Some of the containers are stacked two high and loom 20 feet over head, while a few of the container's messages are hidden behind the rides. As David was putting the finishing touches on the murals earlier this week he noticed a group of kids watching him work and commented – "It's fun to watch the kids discussing the art and the people while they are waiting in line. And with that happening I can say we've met our goal."
About Morey's Piers
Morey's Piers & Beachfront Waterparks is a classic seaside amusement park located on the Wildwoods' boardwalk in Wildwood, New Jersey. Morey's Piers has been voted one of the top three seaside amusement parks in the world by Amusement Today. They have over 100 rides and attractions. Spanning the iconic Wildwood Boardwalk, Morey's Piers includes three amusement piers and two beachfront waterparks.
About David Macomber
David Macomber is the Artist, Designer and Photographer behind SharkSugar Creative – a suf inspired art and design brand. His style is a mixture of photography, graffiti, typography and pop art. His work is featured in galleries and surf shops alike, along the east coast and California.
For more information, photographs and video please contact David Macomber
609-602-4035
###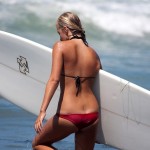 Become A Sponsor!
If you have a product or service that is a good fit for our surf community, we have opportunities for you to sponsor this blog!
Download our media kit now!