VIA – FINANCIAL REVIEW
Surfing's storm boys
Ross Clarke-Jones comes a cropper off Shipstern Bluff.
Nick Carroll
It took a snowy day off the south-east coast of Tasmania for Justin McMillan to truly appreciate his new partners in – well, if not crime, at least crazy spectacle. That was four years ago and McMillan, who has just finished the final edit on the movie Storm Surfers 3D, was working on the TV series of the same name. He was trying to capture the essence of surfers Ross Clarke-Jones and Tom Carroll and their half-comic, seemingly irrepressible big-wave adventures, but the storyline wasn't quite clicking. Then the team's surf forecaster Ben Matson saw a storm approaching from the south. "It was like, this thing looks really ugly but the surf'll be big," recalls McMillan. "We'll go down and have a look and, if the guys think it's OK, they might have a go."
Two days before the shoot…
For the full story and more photos go here:
http://afr.com/p/lifestyle/afrmagazine/surfing_storm_boys_4YmZN3BWmCeAa2vM3xa24K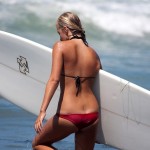 Become A Sponsor!
If you have a product or service that is a good fit for our surf community, we have opportunities for you to sponsor this blog!
Download our media kit now!