VIA – SURFER TODAY
New swell ignites the 2012 Mavericks Invitational
Anxiety is building at Half Moon Bay. A medium-sized NW swell is hitting the shores of California and the 2012 Mavericks Invitational may be called on, in the next days, if all weather conditions meet properly – wave face, tide, wind and wave period. Watch the Wave Height Forecast for the West Coast of USA, here.
The best 24 big wave surfers in the world are ready to answer the call and fly to the San Francisco coast, in 24 hours. Wave conditions are expected to kick the adrenaline, in what is considered to be the best big wave challenge in the world.
The best day may, however, not come. Since 1999, the Mavericks surf contest was only contested seven times. Jeff Clark wants a classic and perfect Mavericks day, in order to blow everyone's mind. Swells are being tracked every day, every hour.
The 2012 Mavericks Invitational carries the title of ultimate big wave surfing event. Danger is part of the game and when waves break half a mile offshore Half Moon Bay, there's a good chance they'll only be suited to surfers with decades of experience.
Until the 31st March…
For the full article go here:
http://www.surfertoday.com/surfing/6893-new-swell-ignites-the-2012-mavericks-invitational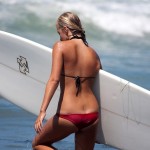 Become A Sponsor!
If you have a product or service that is a good fit for our surf community, we have opportunities for you to sponsor this blog!
Download our media kit now!