VIA – SUNSHINE COAST DAILY
Nick Ferguson was brushed by a force that lifted him out of the water while surfing near Wurtulla. When he turned his board over he noticed one fin missing.
John Mccutcheon
Shark scare for surfers
Trevor Hockins | 7th February 2012
SUNSHINE Coast surfers have been warned to stay away from creek and river mouths after a lunchtime surf turned into a scene from Jaws yesterday.
Nick Ferguson had a run-in with "something big" in murky waters off Wurtulla, which had surfers scurrying to the beach.
Coast lifeguard services manager Scott Braby said it was possible that bull sharks had followed the fresh water run-off from last week's rain into the surf.
"If it was a shark, he was a very lucky boy," he said.
Kings Beach in Caloundra was closed for short periods over the weekend after lifesavers spied sharks off the beach.
"My information is that two sharks were quite small – less than two metres," Mr Braby said.
He said the surfers at Wurtulla did exactly the right thing heading for the beach as soon as they realised what might have happened.
Mr Ferguson said he was surfing about 50m out when his board was hit from beneath.
"I had just pulled my legs up when something big hit the back of my board," 29-year-old Mr Ferguson said yesterday afternoon.
He said he felt something rough brush one of his knees as the board's tail came back down into the murky water.
Tiger sharks are known to "nudge" potential prey.
Mr Ferguson, who lives with his wife at Wurtulla, said he was stunned by the incident.
But that turned to something else altogether when he hit the water and flipped his board over.
The fin had been sheared off.
He said he waved to three others surfing on a bank nearby.
Once they realised what had happened, they all made for the beach.
"I'm pretty sure it was not a turtle," he said.
"I think I'll be buying a Lotto ticket."
Mr Ferguson, who grew up in Caloundra, said he had seen sharks before, but never at such close quarters.
He said he regularly surfed off Wurtulla and the incident would not stop him surfing.
Mr Ferguson said two weeks ago he and his wife had visited Hawaii.
He had surfed on the North Shore, and seen Bethany Hamilton, a young Hawaiian surfer who lost an arm in a shark attack several years ago.
"I was a little worried about going surfing there because…"
http://www.sunshinecoastdaily.com.au/story/2012/02/07/shark-scare-for-surfers/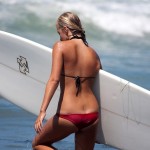 Become A Sponsor!
If you have a product or service that is a good fit for our surf community, we have opportunities for you to sponsor this blog!
Download our media kit now!