VIA – COURIER MAIL AU
No place for surf rage on the Sunshine Coast
Johnston, Maroochy Journal
From: Quest Newspapers
January 30, 2012 12:00AM
WARNING: Sunshine Coast surfers are worried about the increase in surf rage. Picture: Adam Head Source: The Courier-Mail
Calm down! That's the message from Coast surfing identities who want to avoid the surf rage problems plaguing the Gold Coast.
Former world No.5 Robbie Sherwell said the surf rage problem on the Sunshine Coast was nowhere near as severe as on the Gold Coast, but the region was not immune from the problem.
It comes as shocking reports emerged from the Gold Coast where police have launched mounted patrols on some beaches to curb the problem.
"I don't think it's as bad and I don't think it needs policing up here yet. Everyone gets angry sometimes, in the water or out of the water," he said.
"The important thing is that it doesn't escalate to violence.
"At Noosa, when it got good over Christmas, I heard there were guys punching each other over waves.
"But you really go out in the surf to have a good time."
Sherwell expressed some empathy for locals on the Gold Coast, whose famed breaks were given so much publicity they attracted surfers from all over the world.
"You have a wave like Snapper getting all this press and you have guys from Brazil, Tahiti, the US all moving to live there and surf the Superbank, plus the guys from Brisbane and northern New South Wales," he said.
Surfing etiquette is an unwritten law in the water, which many learn from a young age, but Sherwell said there also needed to be some acceptance of those who were still learning to surf.
"I'll get angry if a guy drops in on me who knows what he is doing, but I'm not going to get angry with someone if they don't understand," he said.
"And if I do get angry out in the water these days, I get out, because then I'm not enjoying myself.
"People do get angry in some situations, but there is just no need for violence.
"I teach people about etiquette through the surf school, but you need to experience it first hand to fully understand it."
Sunshine Coast Lifeguard manager Scott Braby agreed the problems on the Sunshine Coast were far more scattered than its southern counterpart, but he said at this time of year when low-pressure systems were prevalent, the number of incidents would be higher.
For the full article go here:
http://www.couriermail.com.au/questnews/sunshine-coast/no-place-for-surf-rage-on-the-sunshine-coast/story-fn8m0yxo-1226254263163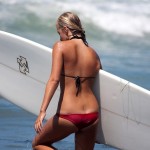 Become A Sponsor!
If you have a product or service that is a good fit for our surf community, we have opportunities for you to sponsor this blog!
Download our media kit now!