VIA – VC STAR
Mischaracterization of surfers
Posted January 30, 2012 at 9:28 a.m.
Re: Colleen Cason's Jan. 29 column, "Surfs up in senate constest":
As a lawyer, environmental activist and lifelong surfer who grew up in Santa Barbara during the historic Unocal oil spill, I was both offended and shocked by the tone and naivete in Cason's column.
First of all, the Spicoli reference characterizing surfers as stoned out hippies is prehistoric and inaccurate. Today, there are literally millions of surfers in California who are community minded, educated, professional and in most cases, superior athletes.
It turns out being a surfer is an excellent way to maintain health, live a clean lifestyle close to your environment, be in wilderness, experience nature firsthand and appreciate important governmental functions like protection of the environment, public infrastructure, water quality and public beach access.
Moreover, surfers vote. Surfers have discovered that participating in government results in better decision making. Particularly at meetings of the California Coastal Commission, but increasingly at all levels of government, surfers have learned that showing up is 90 percent of success. The results are in: organizations like Surfrider Foundation, Save the Waves, Surfers Environmental Alliance and Vote the Coast are having influence, protecting our beaches and improving communities and the quality of life of our families and all Californians.
California courts long ago recognized surfing as an important cultural and economic resource far beyond "Gidget" and "Spicoli."
I'm supporting Jason Hodge for California Assembly not because he is a surfer…
Read more: http://www.vcstar.com/news/2012/jan/30/mischaracterization-surfers/#ixzz1kywQ81Js
– vcstar.com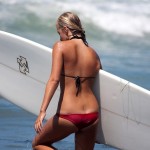 Become A Sponsor!
If you have a product or service that is a good fit for our surf community, we have opportunities for you to sponsor this blog!
Download our media kit now!