VIA – OC REG
Published: March 26, 2012 Updated: 2:14 p.m.
No waves, no surfing at NSSA contest
Tiny waves in San Clemente on Saturday force postponement of a National Scholastic Surfing Association event after four hours of waiting for conditions to improve. The tournament will be made up April 28 in Dana Point.
By FRED SWEGLES / THE ORANGE COUNTY REGISTER
How do you hold a surf contest when there's no surf? Answer: You don't, as the National Scholastic Surfing Association learned Saturday at San Clemente.
An NSSA contest that was scheduled to run all day struggled through two hours of heats Saturday morning as tiny waves that arrived few and far between barely broke, dribbling onto shore. The competition was suspended to see if there would be any improvement on an outgoing tide. There wasn't.
The ocean around the San Clemente Pier looked more like Lake Elsinore.
"We waited until 1 p.m., around four hours," said Janice Aragon, NSSA executive director. "It was more than two hours past the peak high tide, and conditions only seemed to get worse."
So the NSSA postponed the contest for a month. It will be made up April 28 at Salt Creek Beach in Dana Point, piggybacking on another event.
"It was frustrating, but there's nothing anyone could do," Aragon said. "It's Mother Nature. I'll keep my fingers crossed for a bombing swell at Salt Creek."
Waves returned to the San Clemente Pier the next day as a Pacific storm…
For the full article go here:
http://www.ocregister.com/news/waves-346321-nssa-through.html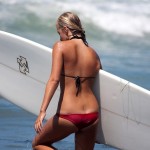 Become A Sponsor!
If you have a product or service that is a good fit for our surf community, we have opportunities for you to sponsor this blog!
Download our media kit now!