VIA – THE IND
Written by Heather Miller
Tuesday, March 27, 2012
A report released Monday by the National Oceanographic and Atmospheric Administration concludes that the dolphins residing in the northern Gulf of Mexico are "underweight, anemic, have low blood sugar and/or some symptoms of liver and lung disease," illnesses that NOAA scientists say stem from the BP oil spill.

According to a report from UPI, NOAA scientists studied 32 dolphins living in Barataria Bay in the summer 2011 and found that many are suffering from various illnesses. Some, they say, are too sick to survive:
NOAA biologists found that nearly half of the dolphins also had abnormally low levels of hormones that help with stress response, metabolism and immune function.

Since February 2010 more than 675 dolphins have stranded themselves in the northern gulf — from Franklin County, Fla., to the Louisiana/Texas border — a rate significantly higher than the usual average of 74 dolphins per year, NOAA biologists said.
The study, according to UPI, is part of the Natural Resource Damage Assessment, a broader research effort combining local, state and federal resources to analyze the long-term effects of the BP oil spill.
The Gulf was also dealt another BP blow Monday when a separate study confirmed that the death of a sprawling, colorful community of coral that once served as "vital oases for marine life in chilly ocean depths" is definitely due to the BP spill…
for the full article go here:
http://www.theind.com/news/10188-noaa-links-dolphin-illnesses-to-bp-spill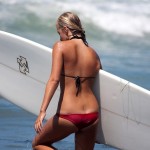 Become A Sponsor!
If you have a product or service that is a good fit for our surf community, we have opportunities for you to sponsor this blog!
Download our media kit now!