VIA – PACIFIC NEWS CENTER
Last Updated on Tuesday, 14 February 2012 13:42 Written by Kevin Kerrigan Tuesday, 14 February 2012 07:42
Guam – The National Weather Service has issued both a High Surf and a Small Craft Advisory for the Marianas. They will remain in effect through Wednesday at 4 pm.
The NWS reports that building trade-winds are generating swells and wind waves that will create hazardous surf along east facing reefs of Guam, Rota, Tinian and Saipan by this afternoon.
READ the High Surf Advisory on the NWS website HERE
The NWS predicts that surf along east facing reefs will rise today [Tuesday] and reach hazardous levels of 9 to 12 feet by this afternoon.
The surf will then peak near 12 feet through Wednesday morning, before gradually subsiding below advisory levels on Wednesday afternoon.
The NWS advises residents to avoid venturing near exposed reefs and beaches, especially those along east facing reefs, because the high surf will generate rip currents which can sweep you out to sea and lead to your death.
In addition the NWS has issued a Small Craft Advisory for rough seas, also being blamed on strong trade winds that are generating large trade-wind waves and swells.
The Small Craft Advisory is now in effect and will remain in effect until at least 4 pm Wednesday.
READ the Small Craft Advisory on the NWS website HERE
A Small Craft Advisory means that seas 10 feet or greater and sustained winds of 22 to 33 knots are expected to produce conditions hazardous to small craft.
* Easterly  winds will increase to 20 to 25 knots this afternoon. Winds will remain at this strength through at least Wednesday afternoon.
* Seas of 8 to 9 feet Tuesday morning should increase throughout the day reaching peaks of  10 to 11 feet by tomorrow…
For the full surf report go herehttp://www.pacificnewscenter.com/index.php?option=com_content&view=article&id=20893:nws-&catid=45:guam-news&Itemid=156: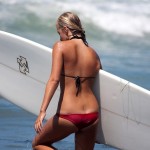 Become A Sponsor!
If you have a product or service that is a good fit for our surf community, we have opportunities for you to sponsor this blog!
Download our media kit now!