What It's Like To Surf The Biggest Waves In The Billabong XXL Big Wave Awards
Waves that are big and challenging enough to earn a nomination for the Billabong XXL Big Wave Awards coveted "Ride Of The Year" happen only a handful of times a year at some of the world's most beautiful and dangerous surf breaks. Hear Mark Healey, Danilo Couto, Michael Brennan, Benjamin Sanchis, and David Scard talk about their experiences that earned them the nod from big wave surfing's most respected contest in 2011.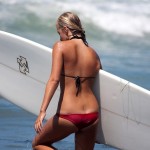 Become A Sponsor!
If you have a product or service that is a good fit for our surf community, we have opportunities for you to sponsor this blog!
Download our media kit now!