VIA – OC REGISTER
O.C. bodysurfers seek titles at Oceanside
Published: Aug. 21, 2011 Updated: 11:03 a.m.
Here is a slideshow highlighting some bodysurfing action and beach scenes from the 35th annual Oceanside World Bodysurfing Championships, which began Saturday and concludes Sunday.
By FRED SWEGLES / THE ORANGE COUNTY REGISTER
These are the surfers who prefer to be at one with the wave – no surfboard, no bodyboard – just you, enveloped by the wave.
This weekend, Oceanside is hosting its 35th annual World Bodysurfing Championships. A moderate swell greeted the competitors Saturday, and if you want to see how it's done, the women's grand championships are today at 12:55 p.m., the men's at 1:20 p.m. at Oceanside Pier.
For a slideshow of Saturday's action and beach scenes, click on the photo.
The term "world" is a stretch, as nearly all the competitors are from California bodysurfing clubs. Most of Orange County's…
for the full story and lots of great bodysurfing photos go here:
http://www.ocregister.com/news/-313179–.html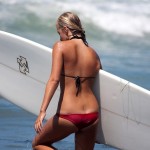 Become A Sponsor!
If you have a product or service that is a good fit for our surf community, we have opportunities for you to sponsor this blog!
Download our media kit now!