VIA – USA TODAY
Florida bracing for arrival of Tropical Storm Irene

By Donna Leinwand Leger, USA TODAY
Floridians should keep an eye on Tropical Storm Irene, which could strengthen into a hurricane and strike the state on Thursday, the National Hurricane Center said.
The storm's path is uncertain, the center said in its forecast.
"The southeastern United States in general and Florida in particular should be paying attention to this storm," said meteorologist Dennis Feltgen, spokesman for the National Hurricane Center. "Make sure you have your hurricane plan in place."
Nearly all the Florida peninsula lies within the path predicted for the five-day forecast, the Florida Emergency Management agency said Sunday in its emergency update. Irene is expected to move into the Florida straits on Wednesday or Thursday and then move over southern Florida early Friday.
"All Floridians should monitor the progress of Irene this week," the advisory said.
Irene on Sunday lashed the northern Leeward Islands with squalls and heavy rain. The storm, with 50-mph winds, was moving quickly west of Guadaloupe and was strengthening. Forecasters said the storm could be a hurricane, with winds 74 mph or greater, by today as it approaches Hispaniola, the island that is home to the Dominican Republic and Haiti.
Whether Irene will strengthen depends on how the storm reacts when it passes over the mountains in the Domincan Republic and Haiti. Such storms usually weaken when they pass over land, Feltgen said. Once Irene passes over Cuba and enters the Florida straits, it could strengthen again over the warm water, he said.
"That's some of the warmest water you'll find anywhere in the tropics," he said.
A Hurricane Hunter aircraft flew into the storm's center Sunday and found tropical storm characteristics, Feltgen said.
"It's looking better organized," he said. "We do expect it to be a hurricane."
For the full story go here:
http://www.usatoday.com/weather/storms/hurricanes/story/2011/08/Florida-bracing-for-arrival-of-Tropical-Storm-Irene/50080662/1?csp=34news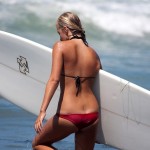 Become A Sponsor!
If you have a product or service that is a good fit for our surf community, we have opportunities for you to sponsor this blog!
Download our media kit now!