VIA – CIVIL BEAT
Country: Down and dropping  at 2-4' at most reefs from the  N-NW  with 12 seconds. Sunset will top list again today but just overhead. Clean direct offshores thnks to ESE winds.  
WEST: Down and Dropping at 1-2 occ 3' on the  NW with pinch of 2' South and with glassy mornings and mushy midday conditions.
TOWN: Holding  1-2' with occas.isolated higher sets,  best conditions early. Watch for bumpiness later.  Diamond Head: Continues at 1-2' occas 3' on the mix of SSE+SSW and fun. The lighter ESE winds making  best textures earlier in the day.  SANDYS: Continues at 1-2 occ 3' on the South, North + Trade swell with decent…
For the full surf report go here:
http://sports.sections.civilbeat.com/post/20474872223/oahu-surf-report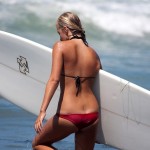 Become A Sponsor!
If you have a product or service that is a good fit for our surf community, we have opportunities for you to sponsor this blog!
Download our media kit now!