VIA – THE AUSTRALIAN
CEO of the boards
As businessman Peter Murphy recalls, '[Niseko] was, and still is, the best snow I have seen anywhere. It was as though I had stepped int a dream.' Source: Supplied
LIKE most seaboard-raised Australians, Peter Murphy lives for summer, when the ocean swell next to a coastal headland is as close to heaven on earth as a surfer can get.
It is also the time when, 8600km north of Sydney, a blanket of the lightest imaginable early- season snow settles on 1893m cone-shaped Mt Yotei, its smaller companion Shiribetsu-dake and the surrounding hillsides and farmlands of Niseko in western Hokkaido, Japan. For skiers and snowboarders this is their nirvana.
Murphy, 51, is a prodigy of both environments, a Sydney-raised surfer-cum-snowboarder and skier who moulded one of his outdoor passions into a business venture that turned Niseko into a world-class ski destination now favoured – not coincidentally or surprisingly – by Australians. It's no exaggeration that the sinewy, fair-haired father of three Australian-Japanese youngsters, who splits his time between Sydney's northern beaches, his other home in Niseko and an office in Hong Kong, is almost solely responsible – to Australians, at least – for Niseko becoming as synonymous with skiing as Manly is with surfing.
Peter Murphy is a Sydney-raised surfer-cum-snowboarder and skiier who turned one of his outdoor passions into a business venture. Source: Supplied
Last year, more than 15,000 Australians travelled to Niseko for its fabled snow. Almost as many went there from Hong Kong, China and Singapore. Murphy's 150 staff in Niseko and others in Sydney and Hong Kong, booked, accommodated, guided, taught or rented equipment to half of them.
Niseko had long been a ski area before Murphy arrived in Hokkaido in 1996 but until he put a ski boot into its famous powder snow only locals and a handful of foreigners knew of its existence and appeal. Relatively isolated on the western side of Japan's northern island, Niseko's proximity to the Sea of Japan, which turns bitterly cold, dry winds from Siberia into snow-laden clouds that dump 15m of pristine powder between November and April each year, is every snow-worshipper's godsend. How, Murphy wondered, could a place with snow so light, so plentiful and virtually guaranteed, not be the ski capital of the world?
What followed was the complete transformation of a sleepy rural area known more for Mt Yotei (or "Ezo Fuji", Hokkaido's Mt Fuji, as locals refer to it) and Wagyu beef than for skiing. Whistler in Canada, Aspen in Colorado and Queenstown, New Zealand – all of which grew from inconsequential villages to international ski destinations – provide comparisons with the magnitude of Niseko's conversion. The difference is it took just a decade for Niseko to achieve what its more famous cousins required 30 years to accomplish. And one man, a surfer and snowboarder from Sydney, started it all.
"I soon realised I had found what could be the next big thing in skiing," Murphy recalls of his visit to Niseko 15 years ago. "It was, and still is, the best snow I had seen. It was as though I had stepped into a dream."
Back then, Niseko was raw and undeveloped; there were a few pensions, a sprinkling of ordinary hotels and barely a sign in English.The upside was that there was hardly anyone on the mountain. Contrast this with the 100,000 ski passes now sold every year, and a plethora of cafes, restaurants and international property developers.
By 2000, Murphy had moved from Sydney to Niseko with his Japanese wife, Reiko, whom he met while she was working in Thredbo. Their first child, Anna, was born that year. George, now 8, and Julia, 6, followed. All are typical Japanese kids who are fluently bilingual, as are their parents, and move seamlessly from one society to another.
"For the first few years, we were catering for small guided groups that totalled only about 200 people a year – mostly snowboarders," Murphy says. "We hired our first instructor in 2001 and two years later the business we called Snow Wave gave way to Ski Japan. It was also the time that we began attracting more skiers, who I soon realised had more money than snowboarders."
At that time, northern hemisphere ski markets, previously the main lure for Australians, started to take a back seat. Niseko offered twice the quantity and quality of snow, better value for money and no jet lag. As numbers escalated, so did the pressure on Niseko's meagre accommodation. It didn't take long before Murphy launched into property development. The Alpine, a modest four-apartment condominium, was his first venture. Today it is dwarfed by a bevy of larger complexes, including the eight-storey Alpen Ridge development. This impressive property with stylish contemporary apartments is home to the Ski Japan ski school, ski rental business and Murphy's real estate and property management business, which has 85 lodges and condos – mostly owned by Australians – on its books…
For the full article go here:
http://www.theaustralian.com.au/news/features/ceo-of-the-boards/story-e6frg8io-1226316569664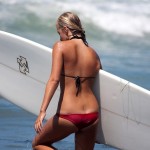 Become A Sponsor!
If you have a product or service that is a good fit for our surf community, we have opportunities for you to sponsor this blog!
Download our media kit now!