VIA – THE ORANGE COUNTY REGISTER


Oceanside surf fest draws O.C. competitors this weekend
Saturday, Oceanside Pier hosts a women's pro junior, open pro longboarding, tandem surfing, longboard club competition and a beach festival featuring live bands and Polynesian dance. Festival continues Sunday with music and club longboarding.
By FRED SWEGLES / THE ORANGE COUNTY REGISTER
If you didn't get enough of the U.S. Open of Surfing at Huntington Beach, try bopping down to Oceanside Pier this weekend for a mini version – pro longboarding, women's shortboarding and a beach festival with live bands, Polynesian dance and vendor booths.
The Oceanside Longboard Surfing Club is presenting its 27th annual contest and beach festival, and you can expect to see some Orange County surfers. Last year, finalists in the Guy Takayama Pro Open and Pro Noseriding Contests included O.C. surfers Steve Newton, Darren Eudaly, Tommy Witt and Andy Nieblas.
In the Supergirl Pro Junior, O.C. surfers Courtney Conlogue, Taylor Pitz, Meah Collins, Kaleigh Gilchrist, Shelby Detmers and Lani Doherty are expected in a lineup also to include last weekend's U.S. Open women's junior champion Lakey Peterson, Hawaii's Coco Ho and Australia's Laura Enever.
Saturday's entertainment in the bandshell includes Jet West Band (9:30 a.m.), Audioleague (noon), the Professors (2 p.m.), Varua Tahiti e Polynesian Dancers (5 p.m.) and the Two Tones (7 p.m.).
For the full story and photos, go here:
http://www.ocregister.com/news/open-311961-saturday-longboard.html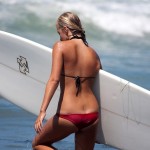 Become A Sponsor!
If you have a product or service that is a good fit for our surf community, we have opportunities for you to sponsor this blog!
Download our media kit now!