One stoked girl!
VIA – FLORIDA TODAY


Ron Jon serves 50 million and counting
Shop welcomes milestone guests Friday
Aug 13, 2011
Olivia Jensen, wrapping up a four-day beach vacation Friday with her brother and father, simply wanted a Ron Jon sweatshirt before heading back to Clearwater.
Her father, Mark Jensen, wavered, but, like many parents, he ended up giving in to his 12-year-old daughter's pleading dark eyes and dimpled smile.
The family ended up getting a lot more than a hoodie.
Jensen became the 50 millionth guest at the landmark Cocoa Beach store as he strolled in with Olivia and her brother, 13-year-old Mark Jr. The honor carried with it a surfboard, a $550 in-store shopping spree and a $2,000 check to be used at any other Ron Jon location throughout the United States.
"This is unbelievable," Mark Jensen said, posing for photos with his children as he was handed a surfboard-size ceremonial check for $2,000 signed by Ron Jon President Debbie Harvey.
"We're in shock. I've never won anything like this," he said.
Friday's event was part of Ron Jon's yearlong 50th anniversary gala, helping mark the company's rise from a tiny Long Beach Island, N.J., surf shack into a retail powerhouse specializing in beach clothing and surfing and skateboard gear.
The first official Ron Jon store opened in 1961. There are now locations in eight U.S cities.
The 52,000-square-foot flagship store in Cocoa Beach was built in 1974. It sells articles from surfboards and high-end performance wear to bikinis, shoes and shot glasses — much of it bearing that iconic Ron Jon logo. It's open 24 hours a day, seven days a week.
"While we have expanded as a company, it is our existing and very loyal customer base that has brought us to this milestone," said a statement from Harvey, who was traveling on business Friday.
It's a milestone that's as good as any to note, especially for promotional purposes, marketing experts say.
"It certainly can't hurt," said Ron Rubin, professor emeritus of marketing at the University of Central Florida. "It puts their name in front of the general public, for one. And it tells the general public of their longevity and that they've been around a long time serving the public."
Measuring the 50 millionth guest required computer modeling and educated guesswork — and also a little traffic control. Before the Jensens walked in, store personnel asked a couple of customers to use the side entrance, which led to the tanned and photogenic Jensen trio getting the promotional barrage just inside the store's entrance.
"We had identified them from outside the building just before coming in," said Ron Jon Marketing Manager Heather Lewis. "At that point, it was a rough estimate of who the 50 millionth guest would be."
http://www.floridatoday.com/article/20110813/BUSINESS/108130314/Ron-Jon-serves-50-million-counting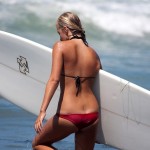 Become A Sponsor!
If you have a product or service that is a good fit for our surf community, we have opportunities for you to sponsor this blog!
Download our media kit now!