VIA – TIMESLIVE
Outrage as Japan raises whale hunt budget by 54 per cent
Sapa-dpa | 07 October, 2011 13:34


Fishermen slaughter a 10m-long bottlenose whale at the Wada port in Minami-Boso city, Chiba prefecture, east of Tokyo. File photo.
Japan plans to increase its annual "whale research" budget in 2012, officials said Friday, in a move that has outraged animal rights' activists, who argue that the country exploits the research proviso to bring whale meat to its market.
The Fisheries Ministry told dpa it had asked for additional funds in order to protect whaling ships from attacks by animal rights groups.
In 2011, the ministry set aside 715 million yen (or 6.95 million euro) for the hunt. In its most recent budget request, it asked for 1.1 billion yen for 2012 – a 54 per cent increase year-over-year.
Japanese Fisheries Minister Michihiko Kano said earlier this week that an escort ship would, for the first time, accompany the fleet when it sets sail for Antarctic waters in November.
Japanese boats ended whaling earlier than usual last season after having been hounded by ships from the anti-whaling Sea Shepherd Conservation Society.
New Zealand on Wednesday condemned Japan's announcement that it would resume whaling in the Southern Ocean this year.
New Zealand Foreign Affairs Minister Murray McCully said Japan was isolating itself from the international community by continuing to catch whales under its "highly dubious" scientific research programme.
Critics accuse Japan of ignoring the 1986 moratorium on whale hunting, introduced to protect the species.
For the full story go here:
http://www.timeslive.co.za/world/2011/10/07/outrage-as-japan-raises-whale-hunt-budget-by-54-per-cent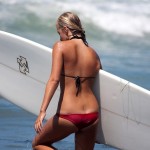 Become A Sponsor!
If you have a product or service that is a good fit for our surf community, we have opportunities for you to sponsor this blog!
Download our media kit now!