VIA – VARIETY
Handley boards 'Of Men and Mavericks'
Thesp will play a bully surfer
By Jeff Sneider
"Battle: Los Angeles" thesp Taylor Handley has joined the cast of Fox 2000 and Walden Media's "Of Men and Mavericks," helmer Curtis Hanson's surfing pic starring Gerard Butler.
Story follows a chapter in the real life of Jay Moriarty (Jonny Weston), a world champion surfer from Northern California who made his reputation surfing Marvericks north of Half Moon Bay before dying in a diving accident at age 22.
Butler plays local surfing legend Frosty Hesson, who mentored and trained Moriarty. Elisabeth Shue and Abigail Spencer co-star as Moriarty's mother and Hesson's wife, respectively.
Handley will play Sonny, a bully who never follows the surfer's code and threatens anyone who tries to "steal" his wave. His contempt gives way to others' open admiration for Moriarty.
Hanson will direct from a script by Kario Salem and Brandon Hooper. Hanson and Hooper are also producing with Mark Johnson and Jim Meenaghan. Butler is exec producing with his manager Alan Siegel. Fox 2000 will co-finance and handle domestic distribution for the pic, which starts production later this month in Santa Cruz.
For the full story go here:
http://www.variety.com/article/VR1118044140?refCatId=13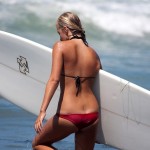 Become A Sponsor!
If you have a product or service that is a good fit for our surf community, we have opportunities for you to sponsor this blog!
Download our media kit now!