VIA – THE MORNING BULLETIN
Professional surfer Joel Parkinson.
Parko gets number one seed
Andrew Mckinnon | 14th February 2012
WORLD Championship runner-up Joel Parkinson has been given the number one seed for the Australian Open, a 6-star WQS event which is in progress at Sydney's Manly Beach.
"I'm stoked to be back in the competition stakes for 2012 and launching my first event of the year at Manly which has so much surfing history – it will be awesome," said the 30-year-old Coolangatta surfer.
Parkinson has now been world runner-up four times like Cheyne Horan and will use the inaugural competition to kick start his 2012 campaign.
Parko was a shoo-in for the 2009 world title but a broken ankle in Bali shattered that dream and last year he was in the ratings lead at the halfway mark and then his luck faded while the greatest surfer ever, Kelly Slater, came back for an unprecedented 11th.
Despite losing again Joel finished off the year with two seconds – one at San Francisco and the last one at Pipeline.
"I was disappointed not to win the Pipe final but all credit to Kieren Perrow who charged harder than everyone."
Parko's approach this year will be to enjoy his surfing and not let the pressure of the competition take away that fire in the belly.
"I still love that feeling of just going surfing and I am keen to win a world title but I'll just take it as it comes," said the father of three who adores his kids and pays huge compliments to his supportive wife Monica.
"A happy life with a happy wife!" he adds with the all too familiar happy Parko smile.
Joel's fellow Billabong Team rider Taj Burrow is the number two seed and Occy has been given a wildcard for Manly.
It's been a long time since ASP has used the iconic beach break for a major event.
Back in the 80's the Manly Cleanwater and …
For the full report go here:
http://www.themorningbulletin.com.au/story/2012/02/14/parko-gets-number-one-seed/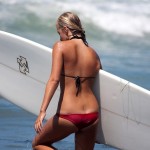 Become A Sponsor!
If you have a product or service that is a good fit for our surf community, we have opportunities for you to sponsor this blog!
Download our media kit now!