VIA – INTERNATIONAL TO
Perfect 10 point rides & Jordy Smith on track for three-peat at Billabong Pro JBay
Friday, 13 July 2012 06:38
Two-time and defending champion Jordy Smith (pictured) (Durban, South Africa) is on track for an historic three-peat
Supertubes, Jeffreys Bay, South Africa (Thursday, July 12, 2012) – Two-time and defending Billabong Pro, J'Bay champion, Jordy Smith (Durban, ZAF) is on track for an historic three-peat victory, after advancing into the final 16 surfers today with an incredible showing at Supertubes in Jeffreys Bay.
The former world number two was one of four surfers to score a perfect 10-point ride in the week-long tournament, on a day that will go down in the World Qualifying Series record books.
Smith's dynamic performance included some huge, man-sized carves and two barrel rides, enough to see him advance to the business end of the Billabong Pro behind the USA's Patrick Gudauskas (USA). Smith will now face off against Frenchman Joan Duru (FRA) in Round 5.
Just three heats stand between Smith and a historic Billabong Pro trifecta. Should the 24 year-old South African claim victory, he will become the first surfer in the event's 34 history to win three in a row.
Jordy has been experiencing phenomenal crowd support, all of whom erupted over his 10-pointer.
"I could hear all the cheering and the vuvuzelas from the water," said Smith. "It really gets you pumped to hear all the support, so thanks to all the fans and supporters out there."
Only 11-times ASP Men's World Champion Kelly Slater (USA) has won three or more Billabong Pro, J'Bay titles, but even the great Slater could not manage to dominate three years in succession.
Hawaiians Ezekial Lau (Haw) and Ola Eleogram (Haw), along with Portuguese surfer Vasco Ribeiro (PRT), were the other surfers to score perfect 10s today, with all contestants mixing up incredible top-to-bottom power surfing with some deep barrel rides.
Australian Nathan Hedge (eliminated in Round 3) is the only other surfer to score a perfect 10, and the 34 year-old former world number seven still holds the highest two-wave combined heat score of the Billabong Pro with his excellent 19.27 point score (out of a possible perfect 20.00) from Day 1.
The surf has not waivered in three days at Supertubes with non-stop two-to-2.5 metre waves peeling relentlessly down the fabled point. Many contestants are now rating the six-star World Qualifying Series event as perhaps the best they have ever surfed.
Top seeds, Adriano de Souza (BRA) and John John Florence (Haw) also remain on track for maiden Billabong Pro, J'Bay victories.
De Souza, the current world number four, has already equalled his best ever finish at Jeffreys Bay by qualifying for the quarterfinals. The 25 year-old disposed of Californian goofy-foot, Nate Yeomans (USA) today in the Round of 16 and he is now due to face off against one of the only remaining Australians in the tournament, Mitch Coleborn (AUS), when competition resumes.
Meanwhile, local surfer Dale Staples (ZAF) has drawn Florence, after an enormous day that saw the local winning heats and advancing all the way to the round of 16.
"I'm feeling so good at the moment," said Staples of his effort. "I've just been treating the event like a free surf, and I just want to keep going, and hopefully build up some points for next year."
Organisers are hopeful of crowning a Billabong Pro, J'Bay Champion by tomorrow (Friday, July 13th), prior to a forecasted weather change expected by late afternoon. An official call on proceedings will be made by 07:00am local time.
Approximately five hours of surfing remains (11 heats), with the waiting period stretching until Sunday, July 15th.
By becoming a World Qualifying Series tournament, the US$155,000 Billabong Pro has this year increased its field from 38 to 144 competitors, affording dozens of local and international hopefuls a chance at competing at one of the world's premier wave locations.
The week-long tournament also boasts a musical element, with the 5FM Music Festival taking place over three consecutive nights from 13-15th July, with more than 40 different artists scheduled to perform.
Full results and upcoming Round 5 and Quarter final heats can be found at www.billabongpro.com
For more event details go to the event site on www.billabongpro.com
Follow the Billabong Pro and look out for event giveaways on Billabong's Facebook Fan Page.
Track the event on Billabong's Twitter feed. (#BILLABONGPROJBAY)
The Billabong Pro J-Bay is made possible with the support of the following:
Department of Sport, Recreation, Arts and Culture, Sony Xperia, Carling Black Label, Monster Energy, Nissan, Vida e Caffe, VonZipper and Nixon.
The 2012 Billabong Pro JBay at Supertubes, Jeffreys Bay, South Africa ran through another 24 heats in exceptional surf today. For the third straight day of competition Supertubes has experienced excellent surf in the double over head range. Two-time and defending champion Jordy Smith (pictured) (Durban, South Africa) is on track for an historic three-peat. For more event details go to the event site on www.billabongpro.com
Image Credit: © ASP / Cestari
http://www.international.to/index.php?option=com_content&view=article&id=6425:perfect-10-point-rides-a-jordy-smith-on-track-for-three-peat-at-billabong-pro-jbay&catid=98:sports&Itemid=236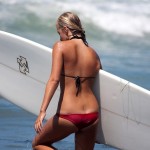 Become A Sponsor!
If you have a product or service that is a good fit for our surf community, we have opportunities for you to sponsor this blog!
Download our media kit now!