VIA – HERALD SUN
Dive expert believes sharks didn't kill missing diver Karen Lee
Andrea Hamblin
Geelong Advertiser
July 13, 2012 7:02AM
Water Police search for Karen Lee who went missing while diving off a ship wreck between Point Lonsdale and Barwon Heads. Picture: Darren Mcnamara Source:Herald Sun
THE head of Dive Victoria believe sharks ate the body of a missing diver, but did not kill her.
Jason Salter, the head of the charter company Karen Lee was travelling on when she disappeared on Saturday, said it was likely Ms Lee drowned because of her own mistake under water, or because of a medical problem.
Having seen her equipment after it was recovered from the sea floor on Monday, he told the Geelong Advertiser there was no doubt sharks and other marine life then devoured her remains.
"When a person dies in any ecosystem where there are animals, unfortunately things take advantage of a free meal," Mr Salter said.
"Creatures would then take that away to fight over it and feed on it it's like seagulls with fish 'n' chips."
Police have given up looking for Ms Lee, 42, of Preston, who disappeared about 3pm on Saturday after a chartered dive in an area known as Ship's Graveyard off Point Lonsdale.
The Department of Primary Industries said there was no recent increase in shark activity in the area.
Mr Salter, who has more than 20 years diving experience, said while there were many sharks in Port Philip Bay, most weren't aggressive.
He said that because her diving buddy had been close by it was highly unlikely anything had attacked Ms Lee prior to her drowning.
Mr Salter said that would explain why Ms Lee's buoyancy vest, scuba tank, mask, camera and other gear were found without her body or any remains a fact that has puzzled rescuers. Ms Lee's diving partner, who police haven't named, was not being treated as a suspect.
Acting Sergeant Ryan Hartshorne, of Police Search and Rescue, said initial investigations had shown it was most likely a shark responsible for the disappearance of Ms Lee's remains.
Police have handed over what little details they have to the coroner.
Ms Lee's family, most of whom are overseas, thanked the community for their support and asked for privacy.
Read more at the Geelong Advertiser
http://www.heraldsun.com.au/news/national/dive-expert-believes-sharks-didnt-kill-missing-diver-karen-lee/story-fncynkc6-1226425014233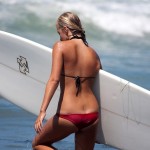 Become A Sponsor!
If you have a product or service that is a good fit for our surf community, we have opportunities for you to sponsor this blog!
Download our media kit now!