VIA – IMPERIAL BEACH PATCH



Photo Gallery: Manny Vargas Surf Trips Around the World
Photos from Vargas' trips around the world with the bodyboarding world tour and his surf and bodyboarding tour company.
By Manny Vargas
1:42pm
I don't have a mortgage. I don't own stock. I don't even have a working car anymore! My Volvo 740 wagon is on her last leg. I guess that's what happens when you've treaded 249,568 miles of hot So Cal and Baja asphault. But what I do have is possibly the coolest jobs.


Born and raised in Imperial Beach, I'm like most of the IB locals who hold the beach life close to heart. So my goal in life is to ensure that my career path involves something to do with the beach. Lucky for me, things have fallen into place quite well.


I have a beautiful islander girl as a wife. I've been running a successfull surf/bodyboard tour company for the past seven years. I've done quite well with my surf photography biz as well. As of December 2010, I've been hired to be the face of bodyboarding. I was hired as the commentator for the 2011 IBA World Tour live webcast which includes eight stops to exotic locations around the world.
For the full article and all the great photos, look here:
http://imperialbeach.patch.com/articles/photo-gallery-manny-vargas-surf-trips-around-the-world-indonesia-mexico#photo-7444011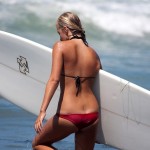 Become A Sponsor!
If you have a product or service that is a good fit for our surf community, we have opportunities for you to sponsor this blog!
Download our media kit now!