VIA – ABS CBN NEWS
Photo of whale shark used as surfboard sparks outrage
ABS-CBNnews.com
Posted at 04/02/2012 12:34 PM | Updated as of 04/02/2012 12:35 PM
A girl uses a butanding (whale shark) as a surfboard in this photo, which went viral on Facebook.MANILA, Philippines – A photo of a butanding (whale shark) used by a girl as a surfboard has prompted anger in the Filipino online community after it was posted on social networking site Facebook.
The photo was posted last March 31 by a certain Liza Sesaldo, who said in a caption that it was taken in Oslob town in Cebu.
Filipino netizens, including ABS-CBN travel show host Kat de Castro, condemned the act of riding atop whale sharks and asked officials in Oslob to "get your act together."
"OSLOB, CEBU! Get your act together! Whale sharks are not surfboards. I condemn this act!" de Castro said on Twitter, posting the photo of the hapless whale shark.
But Oslob Mayor Ronal Guarin denied that the incident took place in their town.
"(This photo) is definitely not from Oslob," Guarin told Cebu Daily News, adding that he has ordered an investigation into the incident.
Fishermen in Oslob have been feeding whale sharks with baby shrimp for decades, making them rise to the surface of the water to the delight of tourists.
Tourists, however, are barred from feeding or swimming with the whale sharks.
Edmundo Arregadas, regional head of the coastal marine management division, earlier said he had discouraged Guarin from continuing the practice of feeding whale sharks, citing a "negative effect on the natural way of life of the whale shark."
"By feeding the whale sharks, the giant fish might become dependent on handouts from people," Arregadas told Agence France-Presse.
He added…
For the full article go here: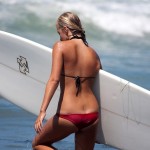 Become A Sponsor!
If you have a product or service that is a good fit for our surf community, we have opportunities for you to sponsor this blog!
Download our media kit now!