We miss our bro Jay…
VIA – SANTA CRUZ SENTINEL
Neil Pearlberg: Moriarity's spirit lives through Tashnick
Posted:   04/01/2012 01:30:55 AM PDT
(Frank Quirarte/Contributed photo)
It was the summer of 1989 when Bill and Susi Tashnick finally granted permission to their young son Anthony to ride his bike down a small avenue that ran into West Cliff Drive in Santa Cruz.
Little did they know that their young lad would take the liberty of sneaking across the road and scampering down the rocks that led to the beach below. Oblivious to the beachgoers, the young Tashnick would run up and down the sand, playing in the shore break.
One day, he was stopped by a grizzled, tanned man carrying a surfboard and sporting a thick white head of hair and a white mane reminiscent of a lion's.
"Do you want to try my board? Here, go ahead, go for a paddle!" the man offered.
The boy grabbed it and took off paddling through the tiny shore break.
"I wasn't sure what to do next, so I turned the board around not far from the shore, and looked up to see the white-haired man — looking like Jesus in a wetsuit — leaning up against the rocks glaring me," Tashnick, now 26, recalled, "and I figured I had better paddle back in."
The man, who later introduced himself as "Harbor Bill" Mulcoy, one of Santa Cruz's surfing legends, wasn't angry.
"You didn't even catch a wave!" he said, seemingly disappointed.
Tashnick didn't care what anyone thought. After that small taste, he just knew that riding a surfboard on the ocean gave him even more freedom than riding his bike to end of the street. "Tazzy," as he is now known in the world of surfing, wanted more.
Tashnick has made the most of the nearly quarter century since, becoming Santa Cruz's surfing prodigy. He secured his first pro sponsorship at age 17 and that same year became one of the youngest to successfully ride the monster waves at Maverick's. His name became synonymous with the big wave break near Half Moon Bay when he won the 2005 Maverick's Surf Contest, before he could legally partake in the offerings of major sponsor Cabo Wabo tequila.
(Frank Quirarte/Contributed photo)
However, he considers his latest achievement — emulating Santa Cruz's first surf prodigy and one of Tashnick's own mentors, Jay Moriarity, as a stunt double in the upcoming movie "Of Men and Mavericks" — his most significant.
"When I surfed with Jay, he was young, and I was even younger than him. He was someone I looked up to and respected," Tashnick said. "He ripped, and I kept saying to myself during the making of the movie, to just surf like Jay."
SURF LIKE JAY
The phrase "Live Like Jay" was coined shortly after Moriarity drowned at age 23 while free diving in the Maldives in 2001. For Tashnick, it wasn't so much a command as a fact. His life seems inextricably intertwined with Moriarity's, starting with their artistic natures.
Tashnick was born a free spirit. While attending Natural Bridges Elementary, Mission Hill Middle and Santa Cruz High schools, and making the honor roll, he entertained thoughts of pursuing a career as a graphic designer. In his free time, he surfed with his father and friends. He also developed a friendship with Mulcoy, who taught him the spiritual side of surfing, knowledge he still refers to as "The Wizard's Wisdom."
As a teenager, he traveled up and down the California coast from Santa Cruz to San Diego, entering local surf contests. Yet in spite of impressive results that earned him small amounts of money from sponsors, the regimented routine of the contest was not something he particularly enjoyed.
That's when Tashnick went looking for more than a 15-minute heat. He just wanted to surf, without judges, without a clock. He needed to be far away from any crowded lineup. With money he saved, the then 17-year-old headed for Mexico with Josh Loya, Joey Hutson and Ken "Skindog" Collins to challenge the 50-foot waves that were going off at Puerto Escondido.
"I remember that trip," Hutson said. "It was like someone let him out of the gate. He just charged it, totally fearless."
He charged right into a featured article in Surfing Magazine, and the surfing companies came calling, wanting to ink the young Tashnick to a sponsorship.
"At 17 years old, it was like putting candy in front of a baby, I just couldn't believe that I was getting paid by Quiksilver to surf," Tashnick said.
MAVERICK'S MAIDEN VOYAGE
Mike Brummet, Tashnick's Santa Cruz Junior Guard instructor and big wave surfer, was the person responsible for introducing the prodigy to Maverick's. Without a word to his mother, Tashnick made a journey to a place that fueled his adrenaline and love of freedom from the crowds.
"I paddled out into the line up with Brummet. The waves were 15-foot-plus, and I couldn't wait to ride that first one," Tashnick said. "I was way too eager and way too deep as I furiously paddled into it. What came next was a feeling of what it must be like to be shot out of a gun. I was violently thrown forward as the wave jacked up, and then closed out around me."
Instead of being scared, though, Tashnick felt a sense of belonging inside the heavy layers of frothing water.
"It was an eerie feeling, that during the worst beating that I had ever felt, something just clicked inside my head," Tashnick said, "and I knew right there and then, I was now surfing for all the right reasons. This is where I needed to be, this is what I needed to do."
For regular Maverick's surf contest competitor Grant Washburn, the similarities between Tashnick and Moriarity even then were hard to miss.
"Tashnick was the second super-grom to come out to Maverick's. Jay was the first, and like him, Tazzy was eager to attempt the vicious wave at an age when most surfers wouldn't have considered it," Washburn said. "Big wave surfing is not a sport that sees many kids. Most riders spend years acclimatizing to a place before they take on serious set waves. However, Jay and Tazzy were not like most surfers."
That's why Tashnick knew he could be the perfect double for Moriarity in the movie…
For the full article go here:
http://www.santacruzsentinel.com/sports/ci_20301706/neil-pearlberg-moriaritys-spirit-lives-through-tashnick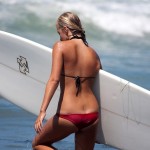 Become A Sponsor!
If you have a product or service that is a good fit for our surf community, we have opportunities for you to sponsor this blog!
Download our media kit now!