Makes you sick to your stomach…hate big oil.
VIA – TIMES LIVE ZA
Oil spill slicks Cape Town beach
Andre Jurgens and Shanaaz Eggington | 03 September, 2011 10:27
Photo – Thick oil from the stricken bulk carrier Seli 1 is washing up on Cape Town's Blouberg beach.
The vessel ran aground two years ago, forcing maritime authorities to pump out hundreds of tons of fuel and remove a cargo of coal to prevent an environmental disaster.
But residents woke up to a heavily soiled beach today and the crude oil has already killed seals and birds.
Disaster Risk Management spokesman Wilfred Solomons-Johannes said that the bow of the ship disintegrated because of rough sea conditions and strong winds that have battered the city over the past few days.
"The city was informed at about 11pm last night that oil was leaking from the ship. A 1km strip of beach has so far been affected," he said.
"We've set up a command centre on the beach and the cleansing department is busy with clean up operations.
"Two seals and two sea gulls have died as result of the oil. Another seal that got caught up in the oil is still alive, but struggling to recover.
"At this stage we cannot say how long it will take to clean up. We are waiting for high tide to sweep the oil onto the beach."
The city asked he public to stay away from the area. No swimming or recreational activities would be allowed there.
Maritime Safety Authority (Samsa) said earlier this year that the wreck of the Seli 1 bulk carrier stranded off the coast of Blouberg, should be completely dismantled.
Samsa's Dave Colly said, tug-boats had spent the past year hauling pieces off the wreck.
City spokesman Kylie Hatton said that the nearby Koeberg Nuclear Power Station had been alerted and was on high alert for any possible threat to the seawater in-take basin at the plant.
The SPCA and SANCCOB were on hand to help wildlife affected by the spill.
For the full article go here:
http://www.timeslive.co.za/local/2011/09/03/oil-spill-slicks-cape-town-beach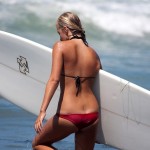 Become A Sponsor!
If you have a product or service that is a good fit for our surf community, we have opportunities for you to sponsor this blog!
Download our media kit now!