Ya Rob! You get em!
VIA – LONG BEACH PATCH
Long Beach Bustles on Eve of Quiksilver Surf Contest
Pro surfers autograph fans' boards and hats at local shop.
Photo – "I come up to Long Beach quite a bit to surf," said Rob Kelly, a pro surfer from New Jersey. "This is the biggest thing that's ever happened for East Coast surfing as a whole. That we get to see the top surfers surf the waves that we do all the time, it' pretty inspirational." Credit: Joseph Kellard
Photo – Pro surfer Taj Burrow of Australia signs a poster for a fan. Credit: Joseph Kellard
Noel Kennedy was stoked on Saturday. Top professional surfers were in his native Long Beach signing autographs for fellow surfing enthusiasts at Maritime Surf on Saturday, the eve of the trials for the Quiksilver Pro New York surfing competition.
Pro surfers Taj Burrow of Australia and Rob Kelly of New Jersey put Sharpie markers on everything from posters to surfboards to baseball caps outside the surf shop on West Park Avenue from 12 to 2 p.m.
"It's really exciting to see world class surfers come out here," said Kennedy, who started surfing when he was five. "You don't get to see this all the time. Now you just can't wait for them to get out and surf."
The event was one of many signs in the city that the competition is near, including Quiksilver selling their wears at a small tent at Kennedy Plaza, as well as at a large merchandise shop in the shadows of the Allegria Hotel at National Boulevard beach.
"We never expected to come to New York for a surfing event," Burrow said as fans lined up seeking his autograph. "But it's been fun."
Kelly, 21, said he often drives up from his home in Ocean City to surf in Long Beach.
"This is the biggest thing that's ever happened for East Coast surfing as a whole," Kelly said. "That we get to see the top surfers surf the waves that we do all the time, it's pretty inspirational."
Mike Flammer, a co-owner of Maritime Surf, said that through his shop's affiliation with Billabong, a surf apparel company, he's able to host signings that feature East Coast pro surfers.
"But this is a really, really good turn out for this town," Flammer said about Saturday's signing. "It's a great event for the store and gives us visibility. The kids in the neighborhood get to meet surfers they may not meet everyday."
Meanwhile, at the Quiksilver site at National beach, the merchandise tent was fully stocked the company's appareal and bustled with patrons. Outside, surfers rode waves and work crews continued to build the various stations on the beach in anticipation of the surf contest. The day before the trials that will determine the winner of the final wildcard brought people out from across Long Island. Quiksilver estimates some 30,000 people visited their site on the beach.
Alan Tichman drove from his home in Plainview to check out the happenings. "I don't come to Long Beach often enough," said Tichman as he strummed an acoustic guitar while seated on a bench at Magnolia Boulevard boardwalk.
For the full story and all the photos, go here:
http://longbeach.patch.com/articles/long-beach-bustles-on-eve-of-quiksilver-surf-contest#photo-7614993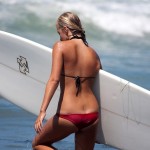 Become A Sponsor!
If you have a product or service that is a good fit for our surf community, we have opportunities for you to sponsor this blog!
Download our media kit now!