This poor guy and his family, so sad…
VIA – WASHINGTON POST
Rescue officials say shark kills surfer off Cape Town; government cancels chumming
By Associated Press, Updated: Thursday, April 19, 12:03 PM
JOHANNESBURG — A shark killed a surfer off Cape Town Thursday, South African police said.Police spokesman Andre Traut said the 20-year-old South African was in the water with his brother and a friend at the time of the attack. Police did not immediately release the man's name.
Following the attack, the government canceled a permit that had allowed a research film crew to throw fish and blood into the water to attract sharks, a practice known as chumming. Critics had said the chumming could attract sharks to popular beaches, but the government's department of environmental affairs had said the researchers were working too far from shore for it to be a threat.
Thursday, environmental affairs spokesman Zolile Nqayi said the permit was withdrawn to calm panic among the publi…

For the full article and all the photos go here now:

http://www.washingtonpost.com/world/africa/rescue-officials-say-shark-kills-surfer-off-cape-town-government-cancels-chumming/2012/04/19/gIQAIHGLTT_story.html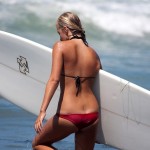 Become A Sponsor!
If you have a product or service that is a good fit for our surf community, we have opportunities for you to sponsor this blog!
Download our media kit now!