VIa – ENCINITAS PATCH
Protecting our Surfing Heritage Through World Surfing Reserves
Katie Westfall of the Save the Waves Coalition talks about how these reserves are helping to protect globally iconic surf spots; Santa Cruz will be dedicated as a reserve April 28.
One of the most innovative tools for the conservation of surf spots has been the development of Surfing Reserves. Pioneered by Brad Farmer in Australia, the Davenport-based Save the Waves Coalition has taken the lead on organizing the development of a global network of World Surfing Reserves. Full disclosure: I am a member of the World Surfing Reserve Vision Council.
Here is a Q&A with Katie Westfall, Save the Waves' Environmental and Program Director.
Santa Cruz is one of the world's richest surf zones and most surf-stoked city with a long surfing history and a rich surf culture. It merits World Surfing Reserve status. Credit Serge Dedina
Serge Dedina: Why do surfing areas need to be designated as Surfing Reserves?

Katie Westfall: Natural surf breaks are important public recreational resources. Unspoiled surf spots are unique and rare and important for their ecosystem services, recreational, aesthetic, educational and economic values. On a global scale, surf breaks have been destroyed by coastal development and threatened by water quality issues or closure of beach access. In California alone, several surf spots have been destroyed along the coastline, including Killer Dana and Corona del Mar in Orange County and Stanley's in Ventura County. Through World Surfing Reserves (WSR), we are proactively working to prevent this from happening to the most amazing surfing areas on the globe.
Dedina: What does World Surfing Reserve status mean?

Westfall: Designation as a World Surfing Reserve means that an area has been formally recognized by a worldwide group of experts, the World Surfing Reserve Vision Council, as a globally significant surfing ecosystem. Once approved, the local community makes a long-term commitment to protect the area's coastal and marine resources and creates a Local Stewardship Plan that outlines exactly how this commitment will be carried out. World Surfing Reserves staff in turn helps to build the capacity of the local community in threat response, stewardship and community outreach and education, which are the three elements that form the fabric of managing a World Surfing Reserve.

Dedina: Where did the concept of surfing reserves come from?

Westfall: Surfing reserves can be traced back to the 1973 when the Victorian government in Australia officially established the first reserve at Bells Beach. National Surfing Reserves Australia (NSR) was formed in 2005, which was a pioneering program that created a blueprint for surfing reserves in Australia.
In 2009, Save The Waves Coalition partnered with NSR Australia and the International Surfing Association (ISA) to launch World Surfing Reserves, with the goal of adding layers of protection to world's most iconic surf breaks and educating people about the tremendous value of these special places.
Dedina: Are there more than one type of surfing reserve?

Westfall: Reserves can either designate an individual "wave break," which includes just one surf spot, or can designate a "surf zone," which includes multiple waves along the coast. The two types of reserves are essentially managed in the same way.
Dedina: What surf spots globally and in California are now World Surfing Reserves?

Westfall: Currently, three World Surfing Reserves have been officially dedicated, including Malibu in California, Ericeira in Portugal and Manly Beach in Australia. Santa Cruz has been approved and will be dedicated as a World Surfing Reserve on April 28th. The official dedication ceremony for Santa Cruz will include an evening fundraiser on Friday, April 27th as well as the official dedication on April 28th, with a paddle out at the Pleasure Point at 10 a.m. and a ceremony at Steamer Lane at 1 p.m. The general public is invited to attend all the events of the dedication ceremony. For more information about the event, people can visit the WSR website.

Dedina: What is the process for evaluating and then designating a World Surfing Reserve?

Westfall: Communities interested in designating their local break or breaks as a World Surfing Reserve will first submit a brief Letter of Inquiry (LOI) to World Surfing Reserves. If the LOI meets the minimum criteria, then communities are invited to submit a full application to World Surfing Reserves. The WSR Vision Council, which is a global group of leaders from the surfing, environmental, scientific, media and business communities, then votes on whether or not the application is approved. The application is evaluated by four criteria: 1) quality and consistency of the wave or surf zone; 2) unique environmental characteristics of the area; 3) surf and ocean culture and history of the area; and 4) local community support. 

Dedina: Is the key criteria having a local stakeholder/stewardship group?

Westfall: Local community support for establishing a World Surfing Reserve is one of the main criteria for approval. Applicants must show broad support from local businesses, community groups, nonprofits, governmental agencies, etc. Once a World Surfing Reserve has been approved, a Local Stewardship Council, a group of seven members from the local community, is created and oversees the management of the reserve. It is very much a grassroots effort dependent on support at the local level.

Dedina: Some have criticized World Surfing Reserves as having little teeth to prevent threats. Are there concrete examples of WSR status helping to reduce a threat or enhancing a surf spot's conservation status?
Westfall: We see the WSR designation as a starting point…
For the full article go here:
http://encinitas.patch.com/articles/protecting-our-surfing-heritage-through-world-surfing-reserves-1466bc15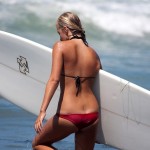 Become A Sponsor!
If you have a product or service that is a good fit for our surf community, we have opportunities for you to sponsor this blog!
Download our media kit now!