VIA – LAS VEGAS SUN
Photos: Tony Hawk's 2011 Stand Up for Skateparks at Red Rock Resort
Tony Hawk and David Copperfield at Hawk's 2011 Stand Up for Skateparks benefit Saturday, Nov. 5, 2011, at Red Rock Resort.
By Robin Leach (contact)
Tuesday, Nov. 8, 2011 | 4:38 p.m.
Eight hundred guests and celebrities didn't know whether to look or listen at Tony Hawk's third annual Stand Up for Skateparks Las Vegas skateboard party and fundraiser at Red Rock Resort over the weekend. Singer-songwriter Ben Harper took to the stage, but as he began to perform, along came a shock-and-awe demo of Vert skating that defied imagination.
It took 14-year-old prodigy Mitchie Brusco to nearly steal the skateboarding show from Tony himself and a lineup of sick-trick stars that included Elliot Sloan, Andy MacDonald, Pierre Luc Gagnon and BMX legend Mat Hoffman. There's never a dull moment when you have skaters turning high-speed cartwheels above a concert at the same time.
Among the stars not knowing which way to look or listen were Holly Madison, Carrot Top, David Copperfield, Rick Harrison, Alison Victoria, Taylor Barton, Tillman the Skateboarding Dog, Travis Pastrana, Sal Masekela, Mike "Rooftop" Escamilla, Rodney Mullen, Ricardo Laguna and Rob Riggle.


The family-oriented action sports festival with games, giveaways, food and auction items supported Tony's continuous mission to build free, quality public skateparks in low-income areas nationwide. Saturday's event raised $640,000 for the Tony Hawk Foundation, including $37,000 for a new Las Vegas skatepark.
Auction items included an ultimate Jane's Addiction meet-and-greet at The Joint in the Hard Rock Hotel, dinner with Tony at Kerry Simon's Palms Place restaurant Simon, a Roland Sands "Hawkized" Triumph Thruxton motorcycle and a Tony Hawk edition 2012 Ford Explorer customized by Galpin, which Tony bid on himself.
Tony fired up the crowd to help build the new skatepark here by purchasing his autographed Birdhouse pro-model skateboard. Through November, you also can support this project…
For the full article go here:
http://www.lasvegassun.com/news/2011/nov/08/photos-tony-hawks-2011-stand-skateparks-red-rock-r/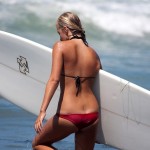 Become A Sponsor!
If you have a product or service that is a good fit for our surf community, we have opportunities for you to sponsor this blog!
Download our media kit now!