VIA – STUFF CO NZ
Rena Update Brief From Maritime NZ
Thursday, 10 November 2011, 9:01 am
Press Release: Maritime New Zealand
Rena Update Brief From Maritime NZ – 6:53am
Good morning,
here is a brief update on the Rena response and details of an opportunity for media to cover surf washing operations this morning.
* No report yet from this morning's aerial observation, or from the salvors on board Rena * On shore, the focus remains cleaning up oil which has already come ashore
* NZ Defence Force, trained oil spill responders, volunteers and contractors will all be continuing their operations this morning * there are volunteer events at Papamoa (10am) and Maketu (11am)
* A team from the oiled wildlife response conducted a night patrol on Rabbit Island last night. We are waiting to hear what they found
There will be a fuller update in the 10.30am press release. Media Opportunity 11am – surf washing at Papamoa beach. Meet at the Papamoa Surf Club at 10.55am – a member of the media team will be there to take you to the site…
For the full story go here:
http://www.scoop.co.nz/stories/AK1111/S00261/rena-update-brief-from-maritime-nz.htm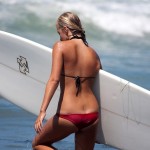 Become A Sponsor!
If you have a product or service that is a good fit for our surf community, we have opportunities for you to sponsor this blog!
Download our media kit now!