VIA – KITV
Tourists Ignore Surf Advisories, Warnings
Waikiki Surf Schools See Drop In Numbers
KITV4 News Reporter Kenny Choi
POSTED: 11:51 am HST August 31, 2011
UPDATED: 5:50 pm HST August 31, 2011
HONOLULU — High surf advisories and warnings for south-facing shores all across the islands are enough to make surfers think twice about testing the waters.
Yet there are plenty of tourists who are ignoring those warnings and taking their chances.
Experienced surfers know how dangerous the waves can be at spots like Bowls. Local surfers like Mark Loughridge decided to surf in Waikiki, and noticed a big difference too.


"If you were out here early this morning, there was nobody on the inside. I think all the folks who are just learning had the good sense to stay out of the water," said Loughridge.
Waves up to 15 feet aren't just affecting surfers thinking about going into the waters, they're also affecting businesses like Hawaiian Oceans Waikiki, which offers surf lessons to tourists.
"The numbers went down big time, yeah. A lot of safety reasons," said surf instructor Reynard Miura.
Miura says he normally gives 15 to 20 lessons each day, but nothing the last two days.
"I'll be honest with them. It's not worth it going out there and dying out there. Come back on another day when it's smaller. It's more fun," said surf instructor Kevin Imura.
"Lot less people here than few days ago. The average tourist looks out there and can see it's much rougher," said Steve Foley, a former lifeguard from Australia.
For the full story and all the photos, go here:
http://www.kitv.com/r/29042360/detail.html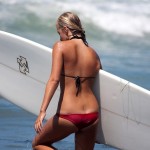 Become A Sponsor!
If you have a product or service that is a good fit for our surf community, we have opportunities for you to sponsor this blog!
Download our media kit now!