VIA – LOS ALIMITOS PATCH
Swimmer Missing off Surfside Amid High Surf and Strong Rip Currents
The search will continue through the night for a 26-year-old swimmer last seen 200 yards from shore at 6 p.m.

By Paige Austin
August 31, 2011
A swimmer who went missing off the coast of Seal Beach is battling strong riptides and 5 to 7-foot waves with ten-foot surges.
Friends of a 26-year-old swimmer reported him missing off the Surfside shore to lifeguards around 6 p.m.
Seal Beach Lifeguard Chief Joe Bailey told KCAL the swimmer "was on a body board, the body board washed ashore, so its a bad sign."
According to KCAL, a rip current took the swimmer and his three friends from Sunset Beach to Seal Beach. The man went missing soon after he and his friends were warned to stay close to the shore because the nearby lifeguard station was closing for the night.
Witness Mike Spainhower told KCAL9 the lifeguard "didn't order them out of the water. He said you need to stay close to the shore for your own safety.
"It's just a tragic, tragic thing," Spainhower told KCAL9. "If I could've said to that young man, `Hey, you better listen to what that lifeguard is saying, because hindsight… it's just a tragic, thing. Pretty sad."
Boats and helicopters from several agencies including the U.S. Coast Guard, the Seal Beach and Long Beach lifeguard departments and the Orange County Sheriff Department's Harbor Patrol have been searching for the swimmer for hours, but by 10:30 p.m., he had not been found. As many as three helicopters and several patrol boats and divers and a number of lifeguards were involved in the search.
Seal Beach Lifeguards last saw the missing swimmer about 200 feet off the shore. Local lifeguards stopped searching for the night and will resume efforts at first light. However, the Coast Guard will continue the search throughout the night, said U.S. Coast Guard Public Information Officer Trent Kelly.
"The search will go on – at least overnight – until we have exhausted every effort," said Kelly.
Conditions are not favorable.
For the full report go here:
http://losalamitos.patch.com/articles/swimmer-missing-off-surfside-amid-high-surf-and-strong-rip-currents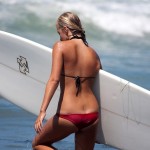 Become A Sponsor!
If you have a product or service that is a good fit for our surf community, we have opportunities for you to sponsor this blog!
Download our media kit now!