NY DAILY NEWS
President Obama wades into shark-filled controversy at San Francisco restaurant
The President 'was not aware' Great Eastern restaurant still serves banned shark fin soup when he ordered takeout
Saturday, February 18, 2012, 3:34 PM
President Barack Obama orders takeout from a restaurant in San Francisco's Chinatown Thursday that serves shark fin soup. Both state and federal law ban the sale of shark fin products.
President Barack Obama
walked into the jaws of controversy when he made a takeout run at a San Francisco Chinese restaurant that serves shark-fin soup.The commander in chief made an impromptu stop at the Great Eastern restaurant in Chinatown Thursday without realizing the popular eatery still serves the dorsal delicacy. California outlawed the sale of shark fin products last year, and the president himself signed a federal anti-shark-finning bill into law last month.
Environmentalists have waged a global campaign against finning, the grisly practice of cutting off sharks' fins for soup before discarding their still-living bodies in the sea.
The President "was not aware" the broth was still on the menu, White House spokesman Jay Carney later told reporters. "The President enjoyed his visit to Chinatown, and, as you know, ordered a lot of dim sum takeout. No soup."
News of the visit made a splash in the national media, including the San Francisco Chronicle, which made a point of highlighting Obama's record on protecting sharks.
Though a law signed by Gov. Jerry Brown last October bans the possession and sale of shark fins in the Golden State, the statute allows existing stocks of fins to be sold until July 1, 2013.
Obama, after making the rounds in Great Eastern's dining room, picked up two bags of shrimp dumplings, pork dumplings, steamed pork buns, Shanghai dumplings and…
Read more: http://www.nydailynews.com/news/politics/obama-wades-shark-filled-controversy-san-francisco-restaurant-article-1.1025110#ixzz1moCy3Tga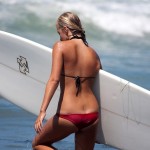 Become A Sponsor!
If you have a product or service that is a good fit for our surf community, we have opportunities for you to sponsor this blog!
Download our media kit now!