VIA – DAILY BREEZE
Surfboard maker crafts works of art in El Segundo warehouse
By Douglas Morino Staff Writer
Posted: 02/18/2012 06:16:15 AM PST
Updated: 02/18/2012 03:38:48 PM PST
yler Hatzikian emerged from a small El Segundo warehouse on a recent rain-soaked afternoon and greeted two visitors, reaching out to shake their hands with a smile and a nod.
The strong chemical smell of fiberglass resin hung in the air. Inside, handcrafted long boards, throwbacks to a different era, sat on racks waiting to be glassed. Others lined walls, polished and ready for local customers. Some would be shipped across the world – Australia, France, Italy, Japan.
Here, Hatzikian continues to turn a childhood fascination of surfing and classic cars into a lifelong profession, bucking mainstream trends and securing his place as a South Bay surfing icon along the way.
"I like to keep my hands busy," said Hatzikian, 40, who has been building surfboards for close to three decades. "These boards are built by local surfers and people who have a passion for the craft."
Tyler Hatzikian is the face behind the Tyler Surfboards brand. (Sean Hiller / Staff Photographer)
Today, Tyler Surfboards consists of just three full-time employees who produce about five long boards a week. Corporate headquarters is a 3,000-square-foot warehouse on Eucalyptus Drive in El Segundo, the close-knit bedroom community where Hatzikian was born and raised.
Hatzikian has experimented with a larger staff, at one time employing as many as 12 people, turning out 20 boards a week. When he was 26, Tyler Surfboards was producing more than 350 boards a year. But Hatzikian has decided to keep his operation small so he can closely monitor each order from foam blank to polished board.
"We're lean and mean," he said. "We're a smaller operation so we can focus on quality and keep the brand tight."
Hatzikian shaped and sold his first surfboard when he was 12 years old. Today, his boards are shipped across the world, fetching as much as $2,000. About 50 percent of orders come from Japan.
He describes the design of his boards as "advanced traditional." They are based on the style of long boards that were popular during surfing's golden era, when the sport's popularity began to swell in the mid-1960s. Hatzikian infuses his surfboard design with his love of refurbishing classic cars and hot rodding.
Tyler Hatzikian creates colorful works of art in his small El Segundo warehouse. (Sean Hiller / Staff Photographer)
"When I was 16 I got into classic cars and started studying classic car design," Hatzikian said. "Once I started studying the history and design I started thinking, `Wait, I surf, yet I don't know much about the history of surfing or surfboard design.' It was a perfect fit."
Along with his board making, Hatzikian is renowned for his ability in the water. His status as a surfer has been propelled thanks to YouTube videos, surf film appearances and magazine photo spreads. Last summer he was profiled in The Surfer's Journal, considered to be the sport's most prestigious publication.
And while Hatzikian's celebrity grows, so does his Tyler Surfboards brand. He continues to hand-shape traditional, single-fin long boards, despite countering industry trends and the ever-increasing popularity of computer-design, factory-stamped short boards.
"With my own surfing and my board-building skills, I just tried to advance it beyond where that long board design ended in the mid-'60s," he said. "That has been my focus for more than 20 years."
Tyler Hatzikian, who hand crafts long boards from a small warehouse in El Segundo, has seen his brand grow substantially since he first started 20 years ago. (Sean Hiller / Staff Photographer)
Hatzikian's father shaped his first new surfboard, a six-foot single fin, when he was 10. Watching his father ignited Hatzikian's lifelong love affair with surfboard shaping. He began experimenting with board design in middle school by stripping …
For the full article go here:

http://www.dailybreeze.com/news/ci_19995029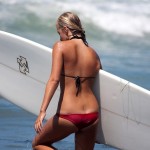 Become A Sponsor!
If you have a product or service that is a good fit for our surf community, we have opportunities for you to sponsor this blog!
Download our media kit now!