VIA – KHON


Pro Surfer Bethany Hamilton fulfills three girls wishes
Published: 11/23 9:44 pm
Updated: 11/23 9:46 pm
Three girls who aspire to become surfers and are fans of Kauai's Bethany Hamilton– had a chance to meet the inspirational surfer thanks to the make a wish foundation.
Eleven year-old Madeline from New York, ten year-old Elizabeth from Iowa and 12 year-old Gina from Connecticut travelled to Kauai where they spent time with Bethany and the Hamilton family.
They each got some one-on-one time with Bethany, and spent an afternoon learning how to surf from Bethany and her coach.
The Princeville Resort donated hotel rooms for the families to stay in during their trip.
Hamilton's story of losing an arm…
For the full report go here:
http://www.khon2.com/news/local/story/Pro-Surfer-Bethany-Hamilton-fulfills-three-girls/tZmh1hFEvEKGSj8Vc4dX6A.cspx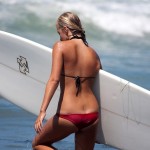 Become A Sponsor!
If you have a product or service that is a good fit for our surf community, we have opportunities for you to sponsor this blog!
Download our media kit now!