VIA – ALOHA UPDATE
North Shore Shaper Jeff Bushman, Big Wave Gun Specialist

North Shore of Oahu is filled with a variety of options for purchasing a new surfboard. You can find a used one on craiglist or hunt one down at a surf shop. Personally, I like to go the custom route where you place an order with a local shaper and get exactly what you want.
Jeff Bushman has shaped several boards for me and he's someone I put a lot of trust in. He takes the time to listen and always does his best. He's been on the north shore building surfboards for over 30 years and has grown as a shaper with several generations of surfers. When you combine that experience with his passion for surfing and drive to understand surfboards, you get one of the best shapers in Hawaii.
Bushman can shape any board you want, but one of his specialties that have proven at places like Waimea Bay and Mavericks are his big wave guns. His short boards are top quality as well. Ezekiel Lau, fresh off his first Sunset HIC Pro 2011 win, is leading Hawaii's younger generation with Bushman boards under his feet in two foot town surf and 6 foot pipe barrels.
As winter approached, and I wanted to add a new big wave gun to my quiver it didn't take me long to decide that I wanted Bushman to shape it. After putting in the order for my 9'8, he finished it 3 weeks later. I came over to see it before it was glassed and was curious to learn more about the wealth of knowledge he has accumulated over the years. We sat down on the porch and I fired off a couple questions with the recorder on and did an interview.
Aloha Update (AU): Who are some of the riders you shape for?
Bushman: When I moved to Hawaii it started with Ross Clarke Jones. From Ross, was Occy, and Luke, and Robby Page and all the Aussies from that generation. Also, I inherited a slew of local groms including Pancho Sullivan, Tamayo Perry, Jack and Petey Johnson, Seth McKinney, and Shawn Briley. I had this catalyst of young guys that were really up and coming. The combination of the Aussies on board and the kids who were starting to surf Pipe, grew up to be some of the best surfers in the world. What Briley did at Pipe when he was 16 was amazing. You see that in his brother today. Pancho became one of the best north shore surfers ever. I've been fortunate to be making his boards for almost 25 years now. So I was able to grow with these guys and I always listen to what everyone says. Always listening to feedback.
AU: What's it like being a surfboard shaper on the north shore of Oahu?
Jeff Bushman: We are fortunate because we have the best surfers in the world and the best testing grounds in the world. It's a place where you can shape a board in the morning, have it glassed that day, and somebody riding it that afternoon. Then get feedback and shape another one that evening or the next morning. You can really test designs and push the envelope on evolution.
AU: How has the feedback from the riders helped you progress the evolution of shaping boards?
Bushman: In the beginning with Ross Clarke Jones, we started building waimea bay boards in 1988 and I didn't really know where we were headed, but just kept doing it. We made 10 different Sunset boards and I changed the rockers 1/8 of an inch, did the same with the Pipe boards, and found what worked the best. A lot of those bottom curves are still applicable today.
AU: You are renowned for your big wave guns. Can you talk more about their development?
Bushman: With Ross Clarke Jones came Tony Ray and Paul Patterson. They were all the guys in the beginning when the bay was breaking. When everyone else was paddling out, they were paddling over trying to get behind the boil. They were the first guys to be taking off under the lip and that became commonplace. You got Dorian and Healey and the other boys have stepped up and they all want that. But they were the original ones, so we were designing boards for Waimea that would actually be able to paddle horizontal, turn, and then fit into to the top of the wave without air dropping. And that's where the slotted fin came in. It came from a windsurfing idea that Ross came to me with that prevents cavitation. As you come across the boil you have all this disturbance in the water, it's swirling and lifting and trying to pull the board out sideways. The fin lets water flow through the slot and this helps keep you stable and allows you to redirect and reset in those critical situations. The whole key of the board was basically to bend the back 3rd of the board and change the tail rockers so the board would fit up under the lip instead of going down and over the lip.
AU: What are some of the differences between Tri-fin setups and Single fin setups on guns?
Bushman: If you watch guys that ride tri-fins at the bay, they have the ability to adjust coming down the face. They can make a small adjustment, turn, and then change direction. Where a single fin rider, as soon as they start, they draw this pure straight line to the bottom and sometimes lose the ability to adjust and a lot of times, they lose the ability to turn the corner. So I've always felt the thrusters are the way to go out there. The whole 4 fin thing is very interesting and it seems to work very well at certain spots like Himalayas, but I still don't see the guys pivoting around the corner at the bay. It seems to be a Mavericks thing too, maybe because Mavericks is a little more lateral and longer than Waimea is.
AU: Who are some riders you have recently been working with on big wave guns?
Bushman: Over the years it's been an interesting evolution. With Twiggy Baker especially, he changed my whole realm of thinking two years ago when he showed up. I had made him boards from the previous winter that were way narrower and really had pulled tails and pulled noses and Twigs showed up with these boards that were like…blobs and he wanted me to shape some. Wider in the nose and tail with fuller flatter decks. I was like, "Oh, I'm not sure." But then I thought, "Wait, this guy is a great big wave rider." And I got him and Greg Long in the driveway discussing all this and I ended up doing it and it evolved into a really good design. And your board is a combination between a really tight gun and Twiggy's board, because you wanted some maneuverability. It's an in-between board. And I figure maybe the average guy seems like it's not gunny enough, but Twiggy's boards kind of changed my thinking and showed me we can move in a different direction again. It's pretty exciting. I think the ability level keeps going up and the number of guys that can ride big waves competently is going up.
The flip side of that is you've got a lot of new big wave riders that have been surfing 2 or 3 years. And just because they are super fit training guys, they don't really have the ocean experience. And they are the ones clogging up the breaks. They ought to take a wake up call when you have a guy like Sion pass away. You've got the premiere guy in the last couple years and then you lose him like that it's tragic. That's where you have all these other people, they don't respect the ocean. They've never been in critical situations they can paddle out stand up and takeoff. But they really can't surf. To me there's something wrong there. Where it used to be, first off you learned to surf, then you learned to surf bigger waves, then you surfed the biggest waves you could. But there was always a respect for the ocean. And it seems like that has been lost a bit. Sion should be the wakeup call.
There was a day two or three winters ago and we were getting ready to put the ski in and there was a pack of 30 guys paddling out to Phantoms. All of a sudden this 25 foot set came through and basically picked everybody off. They were just waving for the tow guys to come get them. Flynn Novak picked up this one guy, don't want to say his name, but he's paddled all these outer reefs and …
For the full article go here:
http://www.alohaupdate.com/2011/11/24/north-shore-shaper-jeff-bushman-big-wave-gun-specialist/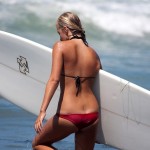 Become A Sponsor!
If you have a product or service that is a good fit for our surf community, we have opportunities for you to sponsor this blog!
Download our media kit now!