VIA – NEWS 24
Promising SA bodyboarder killed in shark attack
2012-04-19 16:43
Cape Town – The man killed in a shark attack on Thursday has been identified as a promising young South African bodyboarder.
The bodyboarder, 20 year-old David Lilienfeld took to the water with a group of friends and his brother around 12:30 at Dappat se Gat, a surf spot between Gordon's Bay and Kogel Bay also known as "Caves".
According to witnesses only one shark attacked and killed Lilienfield, despite earlier reports that two were involved.
"A shark estimated to be between 4m and 5m bit him, amputating his right leg," National Sea Rescue Institute (NSRI) spokesperson Craig Lambinon told News24.
It is believed the shark is a Great White.
Lillienfield was brought ashore by bystanders and friends, but was confirmed dead at the scene by rescue personnel.
Following the incident, witnesses claim that up to 6 sharks could be seen in the area.
It is estimated that the sharks appeared after the attack.
Meanwhile, Lambinon warned people on the coastal side of False Bay to be cautious..
for the full story go here:
http://www.news24.com/SouthAfrica/News/Promising-SA-bodyboarder-killed-in-shark-attack-20120419?fb_ref=.T5Av8DeyZSA.like&fb_source=home_multiline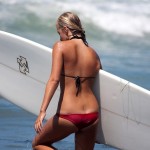 Become A Sponsor!
If you have a product or service that is a good fit for our surf community, we have opportunities for you to sponsor this blog!
Download our media kit now!