VIA – UT SAN DIEGO
Styrofoam collection in Oceanside to make surfboards
Written by
11:53 a.m., April 16, 2012
OCEANSIDE — Sandal and apparel company Reef plans to collect polystyrene foam, or Styrofoam, at Buccaneer Beach Thursday.
The foam, commonly used for packaging items such as televisions or furniture, will be "up-cycled" into new Marko Foam blank surfboards in part of the Waste to Waves program.
The event, recognizing Earth Day, is set to go from 10 a.m. to 4:30 p.m. Thursday and includes beach cleanup from 10:30 a.m. to 12:30 p.m. Lunch, surfing and beach activities are scheduled to begin afterward. Surfboards will be available to try out.
It takes about 5 pounds of polystyrene foam to make a surfboard. The person who brings the most foam will get a free sustainable EPS board and sustainable products from Reef. Reef has made an effort to go green…
http://www.utsandiego.com/news/2012/apr/16/styrofoam-collection-oceanside-make-surfboards/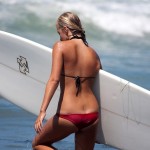 Become A Sponsor!
If you have a product or service that is a good fit for our surf community, we have opportunities for you to sponsor this blog!
Download our media kit now!