VIA – SUNDAYSUN UK
Anthony Kiedis pledge to take on North's surf

Nov 27 2011 by Joanne Butcher, Sunday Sun
ROCKER Anthony Kiedis won't be Red Hot when he takes to the bracing North Sea.
We can reveal that the Red Hot Chilli Peppers frontman is taking up an offer from the region's surfers to join them in catching a wave.
Enthusiasts from Tynemouth, North Tyneside, invited the star down to their patch after hearing he was a fan of the North's surf.
Ex-British champion Gabe Davies said Anthony and the rest of the band would get a warm welcome when they're in the region for their mammoth Stadium of Light gig next year. Now Anthony has promised he'll try to make time to get down to the beach.
"I was really touched to get the offer and would love to take them up on it, if the band's schedule allows," the singer told the Sunday Sun.
Gabe, 35, who is from Tynemouth, was delighted to hear back from Anthony and said it was "great news".
"I just hope they bring their wet-suits because it is a lot chillier here than what they are used to in California. It is excellent news, I would be more than happy to take them out.
"I just hope we get some good waves to show them the North East's potential. It would be fantastic to take them surfing. I guess the next thing would be to arrange back stage passes," he joked.
Singer Anthony has a well-known love of surfing.
In fact, his passion for the sport even made it to Hollywood. The singer appeared in the 1991 Patrick Swayze and Keanu Reeves thriller Point Break.
Kiedis played the character Tone, a surfer dude.
A few weeks ago, Anthony, 49, had already hinted the less-than-balmy temperatures of the North Sea were going to come as a bit of a shock. "Britain has good waves, it's just really cold," the singer said.
"Just north of Newcastle there's a great wave spot, but you have to be a polar bear to take it on."
Anthony and…
For the full article go here:
http://www.sundaysun.co.uk/news/north-east-news/2011/11/27/anthony-kiedis-pledge-to-take-on-north-s-surf-79310-29848574/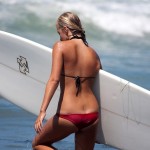 Become A Sponsor!
If you have a product or service that is a good fit for our surf community, we have opportunities for you to sponsor this blog!
Download our media kit now!