VIA – DAILY MAIL
Australia to create world's largest marine reserve in the Coral Sea
By Daily Mail Reporter
Last updated at 5:10 PM on 26th November 2011
The Australian government has announced plans to create the world's largest marine nature reserve covering an area the size of Britain and France combined.
The proposed Coral Sea Commonwealth Marine Reserve will cover 989,842 square kilometres off the country's northeast coast which stretches from the Great Barrier Reef to Papua New Guinea in the north and the Solomon Islands in the east.
Recent research shows the area is home to dozens of endangered species and remains one of the last places on the planet thriving with large predatory fish such as sharks and tuna.
Groups of uninhabited islands which provide nesting sites for green turtles and rare seabirds will also be covered by the ban.
A 90-day public consultation period will take place during which time the government hopes to in finalise the proposals.
New regulations limiting fishing will be imposed and exploration for oil and gas will be prohibited completely.
However environment minister Tony Burke claims any new regulations will not affect recreational fishing as the reserve will start 37 miles from the coast. Only a limited amount of commercial fishing takes place in the area.
Mr Burke said: 'There is no other part of Australia's territory where so much comes together – pristine oceans, magnificent coral, a military history which has helped define us and now a clear proposal for permanent protection.
'The environmental significance of the Coral Sea lies in its diverse array of coral reefs, sandy cays, deep sea plains and canyons. It contains more than 20 outstanding examples of isolated tropical reefs, sandy cays and islands…
For the full article go here:
http://www.dailymail.co.uk/news/article-2066556/Australia-create-worlds-largest-marine-reserve-Coral-Sea.html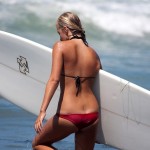 Become A Sponsor!
If you have a product or service that is a good fit for our surf community, we have opportunities for you to sponsor this blog!
Download our media kit now!