VIA – PRESS DEMOCRAT
Rhiannon Hull's sacrifice to save son an inspiration
By CLARK MASON
THE PRESS DEMOCRAT
Published: Sunday, April 1, 2012 at 4:08 p.m.
Last Modified: Sunday, April 1, 2012 at 9:26 p.m.
She gave her last ounce of strength to save her child and then slipped beneath the waves, a testament to super-human stamina and a mother's sacrifice.
Norman Hull, center, with his sons Gianni Hull, 9, left, and Julian Hull, 6, right, in their Healdsburg home, March 31, 2012.
Crista Jeremiason / PD
Five months after drowning off a Costa Rican beach, the life of Rhiannon Hull of Healdsburg continues to inspire others. Hull, 33, was swept out to sea after a heroic struggle in which she held her 6-year-old son's head above water and handed him to a surfer who came to their rescue.
Her boy, Julian, was placed safely on the surfboard. But in a matter of seconds, before she could be reached, she vanished into the sea. Her body was found two days later.
"I'm still puzzling over how she was able to keep him afloat," her husband, Norman, said last week.
The mother and child, who had been playing in the water, may have struggled as long as a half-hour against a riptide that pulled them into deep water.
Looking back, Norman Hull said it's as if his wife, an accomplished distance runner, yoga instructor and spin cycle instructor, had been training for that day her entire life.
"She was focused on being in perfect physical condition all the time," he said.
At 5 feet, 2 inches and 100 pounds, she "had amazing upper body strength, first to paddle and then the ability to hold him out of the water and not give up," he said.
The story of Rhiannon Hull was the subject of an in-depth Sports Illustrated story last month that brought widespread attention to her life, and death.
Hull grew up in Eugene, Ore., where she competed on her high school's track and field team and developed into a top cross-country runner at the University of Oregon…
For the full story go here:
http://www.pressdemocrat.com/article/20120401/ARTICLES/120409980/1042/opinion?Title=Rhiannon-Hull-s-sacrifice-to-save-son-an-inspiration&tc=ar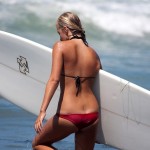 Become A Sponsor!
If you have a product or service that is a good fit for our surf community, we have opportunities for you to sponsor this blog!
Download our media kit now!